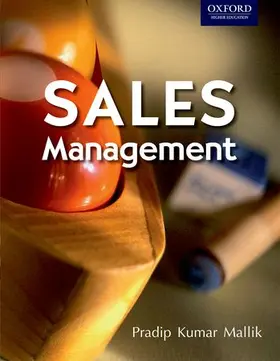 Mallik
Sales Management
---
Buch, Englisch,
544 Seiten, Kartoniert, Format (B × H): 184 mm x 241 mm, Gewicht: 750 g

1. Auflage 2012, 544 Seiten, Kartoniert, Format (B × H): 184 mm x 241 mm, Gewicht: 750 g
ISBN: 978-0-19-807202-7
Verlag: OXFORD UNIV PR

Seite exportieren
---
(inkl. MwSt.)
versandkostenfreie Lieferung
Lieferfrist: bis zu 10 Tage
---
---
---
---
---
---
---
Sales Management is a comprehensive textbook designed to meet the requirements of management students specializing in Marketing at post graduate level. It covers the entire arena of theoretical and practical aspects of sales management as a subject, and uses numerous industrial examples, exhibits, and illustrations for learning.

The book is divided in 5 parts. The first part, Personal Selling, begins with an overview of the key concepts of personal selling with various approaches and strategies, and goes on to discuss the personal selling process in detail. The second part, Organization of Sales Force Functions, talks about managing the sales force and elucidates on sales organization and territory. Following this, the third part, Managing the sales team, starts with
defining the roles and responsibilities of sales persons and includes chapters devoted to sales force recruitment, selection, training, motivation, compensation and performance. Part IV, Financial aspects of Sales, examines the need of sales budgeting, forecasting and cost analysis. The concluding part V, Strategy and Modern Approaches, discusses
about the various sales strategies along with the effects of globalization and modern approaches used for effective selling.

Students will find this book useful owing to its coverage and insights. It will also serve as a veritable guide for professionals owing to the inclusion of strategic approaches along varied examples and case studies.
Autoren


Mallik, Pradip
Dr. Pradip Mallik, currently a Reader at Centre for Management Studies, Burdwan University, has a vast experience of more than 20 years in academics. A Gold Medallist in MBA (Marketing), he also served as Head of the Department of Business Administration at Burdwan University during 2001-03. He has contributed many research articles in reputed journals.


Part I- Personal Selling
1: : An Introduction to Personal Selling
1.1 Personal selling: Concept, Meaning and Definition
1.2 The Importance of Personal Selling In Communication Mix
1.3 Salesmanship
1.4 Objectives of personal selling
1.5 Essentials of Effective Personal Selling
1.6 a Advantages of Personal Selling
1.6 b Limitations of Personal Selling
1.7 Role of personal Selling in Marketing
1.8 Traditional Selling Approach
1.9 Modern Selling Approach
1.10 Types of Selling
1.11 Sales as a profession
1.12 Ethics in Selling
2: : Personal Selling: Approaches and Strategies
2.1 Selling Approaches: A Theoretical Perspective
AIDAS Approach, Right Set of Circumstances Approach, Buying Formula Approach, Behavioral Equation Approach, Need-Satisfaction Approach, Consultative Approach of Selling: Customer Relationship Based Approach, Problem Solving Approach.Team Selling Approach
2.2 Personal Selling: Buyer-Seller Dyad
2.2a: Factors Influencing Buying-selling dyad
2.2b: Determinants of Seller-Buyer Dyad
3: : Personal Selling process
3.1 Selling Process: A Stepwise Approach
3.2 Prospecting: Meaning, Objectives and Sources
3.3 Pre-Approach: A Step towards Sales Panning
3.4 Approach: Dos and Don'ts
3.5 Approaching Techniques
3.6 Customer's Need Discovery: A Prime Concern for Selling
3.7 Sales Presentation: Scopes and Methods
3.8 Handling Objections: A Natural Experience in Selling
3.9 Handling Objections: Coping Strategies
3.10 Closing the sale
3.11: Follow up After Sales: Importance and Methods
Part II: Organization of Sales Force Functions
4: : Sales Force Management
4.1 Sales Management: An Introduction
4.2 Functions of Sales Management: A Review
4.3 Sales Planning: An Environmental Perspective
4.4 Planning Sales Operations: A Useful Guideline
4.5 Strategic Planning: A Building Block to Sales Management
4.6 Sales Management and Sales Managers: A Function-Task Dyadic Relationship
5: : Sales Organization
5.1 Sales Organization: Meaning, Purposes and Types
5.2 Sales Organization: A Structural Perspective
5.3 Criteria and Principles of developing a Sales Organization
5.4 Organizing the Sales force: A Description
5.5 Determining the Size of the Sales Force: A Methodological study
5.6 Managing the Sales force: A Functional Orientation
5.7 Integrating the sales force within the organization: A Need Based Approach
5.8 Sales Organization: Few Contemporary Issues
6: : Sales Territory
6.1 Sales Territory: Meaning and Definition
6.2 Objectives, Benefits and Imperatives of Sales territory
6.3 Management of Sales Territory
Part III: Managing the sales team
7: : Sales persons and Sales Managers: Role and Responsibility
7.1 Sales person: a critical human Resource
7.2 Role of a sales person
7.3 Duties and Responsibilities of Sales Persons
7.4 Qualities of a Sales Person
7.5 A Profile of Sales manager
7.6 Role of a Sales Manager
7.7 Duties and responsibilities of Sales managers
7.8 Skills of Sales Managers
8: : Sales Force Recruitment
8.1 Recruitment: Meaning and Conception
8.2 Job Analysis: A Prerequisite for Recruitment
8.3 Job Analysis: A Prerequisite for Recruitment
8.4 Job Description and Job Specification: A Reference to Sales personnel
8.5 Sources of Sales Recruits
9: : Sales Force Selection
9.1 Selection: An Introduction
9.2 Selection Process: A stepwise Journey
9.3 Interviews: The Backbone of Selection Process
9.4 Guidelines for selection: Important Issues
9.5 A Schema of The Interviews Process
9.6 Psychological Tests: A critical Step in Selection
9.7 Reference Checks, medical Examinations and Job Offer: Essential Formalities of Selection
9.8 Socialization: an Imperative
10: : Sales Training
Sales Force Training: Concepts, Definitions and Objectives
10.2 Sales force Training: A Strategic Orientation
10.3 Benefits of Sales Training at a Glance
10.4 Sales Training: A Procedural Discourse
10.5 Types of Training: An Overview
10.6 Training Methods: A Detailed Illustration
11: : Sales Force Motivation
11.1 Motivating Sales Persons: Objectives and Benefits
11.2 Need: Mother of Motivation
11.3 Motivation: A Strategic Push to Influence Sales Persons
11.4 Motivation Theories: Its Applications to Sales force Motivation
11.5 Stress and Motivation in a Sales person's Life
12: : Directing the Sales Force
12.1 Direction: Concept and Understanding
12.2 Leadership: A Conceptual Clarification
12.3 Leadership and Motivation
12.4 Qualities of a sales Leader
12.5 Leadership Theories at a Glance
12.6 Highlight of the Leadership Theories: A Practical Approach
13: : Sales Force Compensation
13.1 Compensation: Concept, Definition and Types
13.2 Sales Force Compensation Plan: An Illustration
13.3 Factors Influencing Compensation Plan
13.4 Criteria for a Sound Compensation Scheme
13.5 Aims and Characteristics of a Compensation Plan: A Strategic Initiative
13.6 Steps in Compensation Plan: A Developmental Process
13.7 Methods of compensation:
13.8 Compensation Schemes: A Non-Financial Approach
13.9 Strategic Compensation System (SCS): An Imperative to Sales Force Management
14: : Sales Force Performance
14.1 Performance Appraisal: Concepts, Definitions and Objectives
14.2 Performance Appraisal: Criteria and Benefits
14.3 Steps in Sales Force Performance Appraisal: An Elaboration
14.4 Sales force Control: A Necessary Adjunct of Performance Appraisal
14.4a Sales audit 14.4b Management Information System 14.4c Management by Exceptions
14.5 Performance Appraisal Methods: A special reference to sales force
14.6 Managing Sales Performance: Contemporary Issues
Part IV: Financial aspects of Sales
15: : Sales Budgeting and Forecasting
15.1 Sales Budget: An Introductory Approach
15.2 Sales Budget: Basic Approaches
15.3 Sales Budgets: Features, Objectives and Benefits
15.4 Factors Influencing Sales Budgets
15.5 Steps in determining Sales budget
15.6 Methods of Determining Sales Budgets
15.7 Sales Forecasting: A Preliminary Introduction
15.8 Sales Forecasting: Factors and Fundamentals
15.9 Approaches of Sales forecasting
15.10 Methods of Sales forecasting
16: : Sales and Cost Analysis
16.1 Sales analysis: Concepts and Features
16.2 Sales Analyses at Individual Units: A Review
16.3 Methods of Sales Analysis: A Concise Description
16.4 Sales Quota: A Tool for sales Analysis
16.5 Methods for setting Sales Quota
16.6 Cost analysis: Concepts and Objectives
16.7 Cost Control: An Important Objective of Cost Analysis
16.8 Methods of Cost Analysis
Part V: Strategy and Modern Approaches
17: : Sales Strategy
17.1 Strategic Orientation of Selling: An Introduction
17.2 Environmental Analysis: A Prerequisite for Strategic Plan
17.3 Sales Strategies: Some Common drivers
17.4 Steps in Strategic Sales management
17.5 Understanding Competition: Essential for Selling Strategy
17.6 Marketing Strategy: A Trigger of Sales Strategy
17.7 Sales Strategy: Focus on Customer Relationship
17.8 Sales Strategy: Distribution as an Implementation Channel
17.9 Sales Strategy: Social Responsibility Issues
17.10 Customer Relations: A Customer Retention Strategy
18: : Selling under Globalization and Modern Approaches
18.1 Dynamics of Selling: Tracing its Traditional Root
18.2 Forces of Orientation: Traditional to Modern Selling
18.3 E-Commerce: A Digital Route to Contemporary Personal selling
18.4 Benefits of E-commerce
18.5 Limitations of E-commerce
18.6 Web Based Selling: Concepts and Applications
18.7 Social Media: A New Vista to Modern selling
Primary: MBA/PGDM courses, Secondary: EDP/MDP participants
versandkostenfreie Lieferung
---
28,50 €

(inkl. MwSt.)
Lieferfrist: bis zu 10 Tage
Aufgrund der Corona-Krise kann es in Einzelfällen zu deutlich längeren Lieferzeiten kommen.
---
Webcode: sack.de/cq45x
Bitte ändern Sie das Passwort