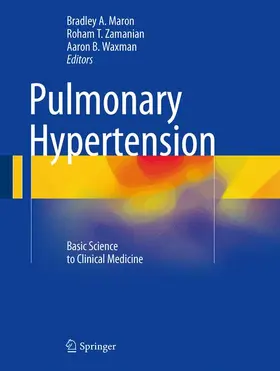 Maron / Waxman / Zamanian
Pulmonary Hypertension
Basic Science to Clinical Medicine
1. Auflage 2016
ISBN: 978-3-319-23593-6
Verlag: Springer, Berlin
Seite exportieren
---
Buch, Englisch,
371 Seiten, Gebunden, Book, Format (B × H): 213 mm x 286 mm, Gewicht: 1260 g
Erhältlich auch als Buch
Basic Science to Clinical Medicine
1. Auflage 2016, 371 Seiten, Gebunden, Book, Format (B × H): 213 mm x 286 mm, Gewicht: 1260 g
ISBN: 978-3-319-23593-6
Verlag: Springer, Berlin
Seite exportieren
---
(inkl. MwSt.)
versandkostenfreie Lieferung
Lieferfrist: bis zu 10 Tage
---
---
---
---
---
---
---
This book provides the framework for a singular reference in the field of pulmonary hypertension. Pulmonary vascular disease is a complex and heterogeneous condition characterized by remodeling of distal pulmonary arterioles that increases pulmonary vascular resistance to affect cardiopulmonary hemodynamic and right ventricular function adversely, resulting in a clinical syndrome of diminished exercise tolerance, shortness of breath, and heart failure-associated morbidity and mortality. Owing to the availability of novel pulmonary circulation-selective pharmacotherapies over the previous decade, the number of pulmonary hypertension patients eligible for treatment has increased substantially. Despite this progress, under-awareness persists within the practicing pulmonary, cardiovascular, and general internal medicine communities. This is due, in part, to the complex array of molecular mechanisms implicated in the pathobiology of PH, as well as cutting-edge discoveries from translational scientific works that provide a new framework by which to understand pulmonary vascular-right ventricular coupling. Taken together, a key educational opportunity is exposed to bridge this knowledge gap through the synthesis of a contemporary text that emphasizes basic science, translational and clinical principles, and treatment strategies for understanding pulmonary hypertension.
Herausgeber


Waxman, Aaron B.
Bradley A. Maron, M.D. is an Assistant Professor of Medicine at Harvard Medical School (HMS), Associate Physician in the Division of Cardiovascular Medicine at Brigham and Women's Hospital, and Co-director of the Pulmonary Vascular Disease Center at the Boston VA Healthcare System. His research focuses on the basic mechanisms underpinning adverse pulmonary vascular remodeling. Dr. Maron's research is funded by the NIH, among other prestigious foundations. He is also an Eleanor and Miles Shore Scholar in Medicine and HMS Excellence in Teaching award recipient. Roham T. Zamanian, M.D. is an Assistant Professor of Medicine and Director of the Adult Pulmonary Hypertension Program at Stanford University School of Medicine. Dr. Zamanian completed medical school and Internal Medicine training at the University of California, Irvine Medical Center and fellowship in Pulmonary and Critical Care Medicine at Stanford University. Dr. Zamanian was also an eBay Pulmonary Vascular Disease super-fellow at the Vera Moulton Wall Center (VMWC) for Pulmonary Vascular Diseases at Stanford University. Besides an active clinical career, Dr. Zamanian is a translational scientist focusing on the discovery of novel biochemical and clinical risk factors for pulmonary vascular disease. Dr. Zamanian's research is funded by the NIH and VMWC. Aaron Waxman, M.D., Ph.D., is the Executive Director of the Center for Pulmonary Heart Diseases at the Brigham and Women's Hospital (BWH) Heart and Vascular and Lung Centers. Dr. Waxman directs the Pulmonary Vascular Disease Program at BWH. His interests focus on integrating clinical and basic investigations to understand further pulmonary vascular disease and right heart failure. Dr. Waxman directs a robust NIH-funded clinical and basic research program, posts leadership roles in several international organizations, and collaborates actively with clinical experts and investigators around the world.


Historical Perspective on the Classification and Nomenclature of Pulmonary Hypertension.- The Defining Characteristics of Pulmonary Arterial Hypertension.- Pulmonary Hypertension in Patients Without Pulmonary Arterial Hypertension.- Epidemiology of Pulmonary Hypertension: From Quaternary Referral Centre to the Community.- The Effects of Chronic Hypoxia on Inflammation and Pulmonary Vascular Function.- Genetics of Pulmonary Vascular Disease.- Novel Mechanisms of Disease: Network Biology and MicroRNA Signaling in Pulmonary Hypertension.- Pulmonary Hypertension as a Metabolic Disease.- Renin-Angiotensin-Aldosterone and other Neurohumoral Factors in the Pathogenesis of Pulmonary Hypertension.- Animal Models of Pulmonary Hypertension.- The Cardiopulmonary Hemodynamic Evaluation of Pulmonary Hypertension.- Advanced Imaging in Pulmonary Hypertension.- Assessing Disease State in the Pulmonary Vasculature in Clinical Practice and Research.- Biomarkers and other Methods for Assessing Patient Progress.- Pulmonary Circulatory - Right Ventricular Uncoupling: New Insights into Pulmonary Hypertension Pathophysiology.- Contemporary Pharmacotherapies Involving Nitric Oxide, Prostacyclin, and Endothelin Receptor Signaling Pathways.- Determining the Optimal Approach to Initiating Oral, Inhaled, and Intravenous Therapies in Clinical Practice: Sequential Goal-Directed Therapy is Best.- Counterpoint: Determining the optimal approach to initiating oral, inhaled, and intravenous therapies in clinical practice: Maximal upfront therapy is best.- Surgery, Devices, Transplantation and Other Interventional Options for the Treatment of Advanced Pulmonary Hypertension.- Patient Registries in Pulmonary Arterial Hypertension: the Role of Survival Equations and Risk Calculators.- Support Care for the Pulmonary Hypertension Patient.- Special Considerations for the Pulmonary Hypertension Patient.- The Future of Pulmonary Hypertension.
Professional/practitioner
versandkostenfreie Lieferung
---
171,19 €

(inkl. MwSt.)
Lieferfrist: bis zu 10 Tage
---
Webcode: sack.de/o7snd
Bitte ändern Sie das Passwort