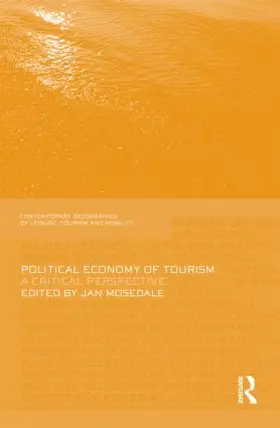 Mosedale
Political Economy of Tourism
A Critical Perspective
1. Auflage 2010
ISBN: 978-0-415-54802-1
Verlag: Taylor & Francis Ltd
Seite exportieren
---
(inkl. MwSt.)
versandkostenfreie Lieferung
Lieferfrist: bis zu 10 Tage
---
---
---
---
---
---
Political economy, in its various guises and transfigurations, is a research philosophy that presents both social commentary and theoretical progress and is concerned with a number of different topics: politics, regulation and governance, production systems, social relations, inequality and development amongst many others. As a critical theory, political economy seeks to provide an understanding of societies – and of the structures and social relations that form them – in order to evoke social change toward more equitable conditions.
Despite the early influence of critical development studies and political economy on tourism research, political economy has received relatively little attention in tourism research. Political Economy and Tourism the first volume to bring together different theoretical perspectives and discourse in political economy related to tourism. Written by leading scholars, the text is organised into three sequential Parts, linked by the principle that 'the political' and 'the economic' are intimately connected. Partone presents different approaches to political economy, including Marxist political economy, regulation, comparative political economy, commodity chain research and alternative political economies; Parttwo links key themes of political economy, such as class, gender, labour, development and consumption, to tourism; and Partthree examines the political economy at various geographical scales and focuses on the outcomes and processes of the political act of planning and managing tourism production.
This engaging volume provides insights and alternative critical perspectives on political economy theory to expand discussions of tourism development and policy in the future. Political Economy and Tourism is a valuable text for students, researchers and academics interested in Tourism and related disciplines.
Herausgeber


Mosedale, Jan
Jan Mosedale is Senior Lecturer in Tourism and Hospitality at the University of Sunderland, UK. He is primarily concerned with analysing the constitution of 'the economy' as multiple forms of economic practices across space. This involves research on the capitalist structures of the economy as well as non-capitalist forms of economic exchanges.


1. Re-introducing Tourism to Political Economy Jan Mosedale Part 1: Approaches to Political Economy in Tourism 2. Tourism, Capitalism and Marxist Political Economy Raoul V. Bianchi 3. Regulation Theory and its Evolution and Limitations in Tourism Studies Scarlett Cornelissen 4. The Paradigms of Political Economy and Tourism Policy: NTOs and State Policy Craig Webster, Stanislav Ivanov and Steven F. Illum 5. Global Commodity Chains and Tourism: Past Research and Future Directions Michael Clancy 6. Thinking outside the box: Alternative Political Economies in Tourism Jan Mosedale Part 2: Tourism and Key Themes of Political Economy 7. Yes, Virginia: There is a Tourism Class: Why Class Still Matters in Tourism Analysis C. Michael Hall 8. Gender and Tourism: Gender, Age and Mountain Tourism in Japan Janet Momsen and Michihiko Nakata 9. The Political Economy of Temporary Migration: Seasonal Workers, Tourists and Sustaining New Zealand's Labour Force Kirsten Lovelock and Teresa Leopol 10. Changing Power Relations: Foreign Direct Investment in Zanzibar Dorothea Meyer 11. Dubai: 'An Exotic Destination with a Cosmopolitan Lifestyle.' Kevin Meethan Part 3: Tourism and Spatial Contexts of Political Economy 12. Negotiating Business Interests and a Community's 'Greater Good': Community-based Tourism Planning and Stakeholder Involvement in the Catlins, New Zealand Julia N. Albrecht 13. Tourism, Neoliberal Policy and Competitiveness in the Developing World: The Case of the Master Plan for Marrakech Nicolai Scherle 14. The Political Economy of Trade in International Air Transport Services David Timothy Duval and John Macilree 15. Tourism Regulation and Relational Geography: The Global, Local and Everything in Between Jan Mosedale and Julia N. Albrecht
versandkostenfreie Lieferung
---
141,50 €

(inkl. MwSt.)
Lieferfrist: bis zu 10 Tage
Aufgrund der Corona-Krise kann es in Einzelfällen zu deutlich längeren Lieferzeiten kommen.
---
Webcode: sack.de/0zxby
Bitte ändern Sie das Passwort