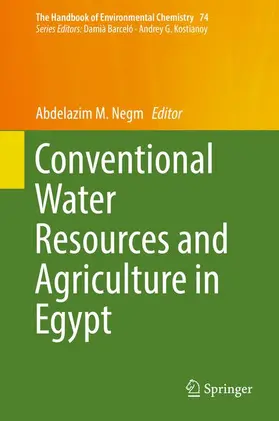 Negm
Conventional Water Resources and Agriculture in Egypt
---
(inkl. MwSt.)
versandkostenfreie Lieferung
sofort versandfertig, Lieferfrist: 1-3 Werktage
---
---
---
---
---
---
This unique volume focuses on Egypt's conventional water resources and the main water consumer: Egypt's agriculture. It provides an up-to-date overview and the latest research findings, and covers the following main topics:·       History of irrigation and irrigation projects·       Key features of agriculture, the administrative and legal framework in Egypt·       Land resources for agriculture development·       Food insecurity due to water shortages and climate change; resulting challenges and opportunities·       Assessment of water resources for irrigation and drinking purposes·       Impacts of upstream dams, such as the GERD and Tekeze Dam, on Egypt's water resources and crop yield·       Sustainable use of water resources and the future of mega irrigation projects·       Quantity and quality of water in Egypt's water resources bank

This book and the companion volume Unconventional Water Resources and Agriculture in Egypt offer invaluable reference guides for postgraduates, researchers, professionals, environmental managers and policymakers interested in water resources and their management worldwide.
Herausgeber


Evolution of Irrigation in Egypt.- The History of Irrigation Development Projects in Egypt.- Key Features of the Egypt's Water and Agricultural Resources.- Administrative Context and the Legal Framework GoverningWater Resources and Agriculture in Egypt.- A Synopsis on Egypt's Digital Land Resources Database Serving Agricultural Development Plans.- Land and Groundwater Assessment for Agricultural Development in the Sinai Peninsula, Egypt.- Impact of Climate Change on the Agricultural Sector in Egypt.- Challenges and Issues in Water, Climate Change and Food Security in Egypt.- Egyptian food insecurity under water shortage and its socioeconomic impacts.- Evaluation of Water Resources Qualities for Agriculture Irrigation in Abu Madi Area, Northern Middle Nile Delta.- Spatiotemporal Fluctuations in Phytoplankton Communities and Their Potential Indications for the Pollution Status of the Irrigation and Drainage Water in the Middle Nile Delta Area, Egypt.- Groundwater Assessment for Agricultural Irrigation in Toshka Area, Western Desert, Egypt.- Impacts of Filling Scenarios of GERD's Reservoir on Egypt's Water Resources and Their Impacts on Agriculture Sector.- Ecohydrogeological Challenges on Ethiopian Water Projects and their Impacts on Annual Water Share of Egypt: Case Study of Tekeze Dam.- Estimation of Crops Water Consumptions Using Remote Sensing with Case Studies from Egypt.- Crop Water Requirements and Irrigation Efficiencies in Egypt.- Greenhouse Operation and Management In Egypt.- Improving Agricultural Crop Yield and Water Productivity via Sustainable and Engineering Techniques.- Mega Agricultural Projects in Egypt.- Role of The Participatory Management in Improvement of Water Use in Agriculture.- Development of rating curves for Egypt's Water Resources Bank.- Investigating the Water Quality of the Water Resources Bank of Egypt - Lake Nasser.- Update, Conclusions, and Recommendations for Conventional Water Resources and Agriculture in Egypt.
versandkostenfreie Lieferung
---
353,09 €

(inkl. MwSt.)
sofort versandfertig, Lieferfrist: 1-3 Werktage
---
Webcode: sack.de/t7h2y
Bitte ändern Sie das Passwort