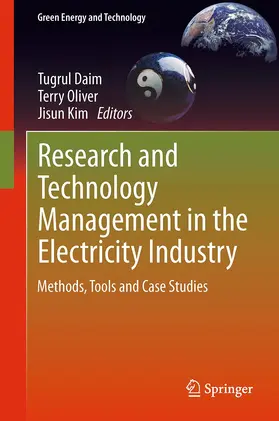 Oliver / Kim / Daim
Research and Technology Management in the Electricity Industry
Methods, Tools and Case Studies
2013
ISBN: 978-1-4471-5996-4
Verlag: Springer, Berlin
Seite exportieren
---
Buch, Englisch, Reihe:
Green Energy and Technology
359 Seiten, Kartoniert, Paperback, Format (B × H): 155 mm x 235 mm, Gewicht: 563 g
Erhältlich auch als
Methods, Tools and Case Studies
2013, 359 Seiten, Kartoniert, Paperback, Format (B × H): 155 mm x 235 mm, Gewicht: 563 g Reihe: Green Energy and Technology
ISBN: 978-1-4471-5996-4
Verlag: Springer, Berlin
Seite exportieren
---
(inkl. MwSt.)
versandkostenfreie Lieferung
Lieferfrist: bis zu 10 Tage
---
---
---
---
---
---
---
Technologies such as renewable energy alternatives including wind, solar and biomass, storage technologies and electric engines are creating a different landscape for the  electricity industry. Using sources and ideas from technologies such as renewable energy alternatives, Research and Technology Management in the Electricity Industry explores a different landscape for this industry and applies it to the electric industry supported by real industry cases.

 

Divided into three sections, Research and Technology Management in the Electricity Industry introduces a range of  methods and tools including technology assessment, forecasting, roadmapping, research and development portfolio management and technology transfer. These tools are the applied to emerging technologies in this industry with case studies including data from various organizations including Bonneville Power Administration and Energy Trust of Oregon, from sectors including lighting and wind energy. The final section considers innovation through these technologies.

 

A product result of a collaboration between Bonneville Power Administration and Portland State University, Research and Technology Management in the Electricity Industry is a comprehensive collection of methods, tools, examples and pathways for future innovation in the electricity industry.
Herausgeber


Daim, Tugrul U.
Dr. Tugrul Daim is an Associate Professor and PhD Program Director in the Department of Engineering and Technology Management at Portland State University. Prior to joining PSU, he had worked at Intel Corporation for over a decade in varying management roles. At Intel he managed product and technology development. Professor Daim has been consulting to several organizations in sectors ranging from energy to medical device manufacturing. He has been helping organizations including US Dept of Energy, Energy Trust of Oregon, Biotronik, Elsevier and many others to develop technology roadmaps for their future investments. He is also a visiting professor with the Northern Institute of Technology at Technical University of Hamburg, Harburg where he teaches similar short courses. He has been recently appointed as Extraordinary Professor at the Graduate School of Technology Management at University of Pretoria in South Africa. He is frequently invited to give lectures around the world. His recent visits were to Finland, Japan and Germany. Dr. Daim has published over 200 refereed papers in journals and conference proceedings. His papers appeared in Technological Forecasting and Social Change, Technovation, Technology Analysis and Strategic Management, Computers and Industrial Engineering, Journal of Medical Systems, Energy, Energy Policy and many others. He has coauthored four books of readings and several proceedings. He is the Editor-in-Chief of International Journal of Innovation and Technology Management and North American Editor of Technological Forecasting and Social Change. He received his BS in Mechanical Engineering from Bogazici University in Turkey, MS in Mechanical Engineering from Lehigh University in Pennsylvania, MS in Engineering Management from Portland State University, and Ph.D. in Systems Science: Engineering Management from Portland State University in Portland Oregon.Terry Oliver has worked globally to advance sustainable energy and re-engage the electric utility industry in critically important research and development (R&D). He has worked for Bonneville Power Administration (BPA) since 1981. Terry led the world's largest residential conservation program and ground-breaking research in community-based conservation, designed the first Demand-Side Management programs ever undertaken by a developing country, created linkages between sustainable energy, jobs, and the local and global environment with non-government organizations throughout Asia, South Africa, and the Middle East. As Chief Technology Innovation Officer, Terry has tripled BPA's investment in R&D. He has transformed BPA's executive and staff engagement in defining and managing a research portfolio. And he led the creation of BPA's first public and formal research agenda. Terry advises the Electric Power Research Institute, Carnegie Mellon University's Electricity Industry Center, and the Smart Grid Policy Center. Dr. Jisun Kim is an adjunct assistant professor of engineering and technology management, teaching two graduate level courses, at Portland State University, and work for Technology Innovation Office at Bonneville Power Administration of US Department of Energy. For his work at Bonneville Power Administration, he provides theoretical background and knowledge in the area of technology management to the Technology Innovation Office; builds technology landscape and R&D strategy of key strategic technologies and applications for BPA; develops framework, process, methods of evaluation and selection for R&D programs and a portfolio of emerging energy technologies; and builds a framework and facilitating workshops for technology roadmaps of energy efficiency technologies and market programs, power technologies, electricity transmission technologies and energy storage technologies. He received his B.S. in Industrial Engineering, M.S. in Industrial Engineering - R&D Management System from SungKyunKwan University, M.S. in Engineering Management, and


Introduction.- 1.Methods and Tools Applied in Strategic Technology Planning.- 2.Multi-criteria Applications in Renewable Energy Analysis, a literature Review.- 3.Expert Judgment Quantification.- 4.Technology Forecasting Methods.- 5.Use of Multiple Perspectives and Decision Modeling for PV Technology Assessment.- 6.Application of Fuzzy Cognitive Map (FCM) for the development of Scenarios: A Case Study of Wind Energy Deployment.- 7.Transmission Technology Needs.- 8.Forecasting the Maturity of Alternate Wind Turbine Technologies through Patent Analysis.- 9.Technology Adoption - Building IT.- 10.Adoption of Energy Efficiency Technologies: A Review of behavioral theories for the case of LED lighting.- 11.Application of a Cross-Disciplinary Taxonomy: Technology Transfer of Energy Innovations from Government Labs.- 12.A Framework for Green/Eco-Innovation through Use of a Novel Measure: E/R.- 13.Analysis of Some of the Demand Side Management Products at Residential Sites.- 14.Solar Lanterns - Technology Adoption Model for Indian Villages.- 15.Adoption of Energy Efficient Technologies from a Demand Side Management Perspective: Taxonomy of Adoption Drivers, Barriers and Policy tools.
;
Professional/practitioner
versandkostenfreie Lieferung
---
139,99 €

(inkl. MwSt.)
Lieferfrist: bis zu 10 Tage
Aufgrund der Corona-Krise kann es in Einzelfällen zu deutlich längeren Lieferzeiten kommen.
---
Webcode: sack.de/dn5la
Bitte ändern Sie das Passwort