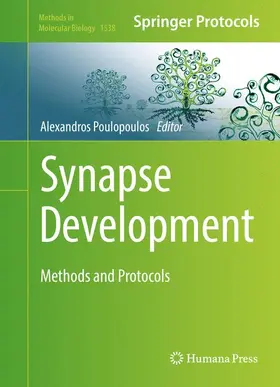 Poulopoulos
Synapse Development
Methods and Protocols
1. Auflage 2017
ISBN: 978-1-4939-6686-8
Verlag: Springer, Berlin
Seite exportieren
---
Buch, Englisch, Reihe:
Methods in Molecular Biology
Band: 1538
372 Seiten, Gebunden, Book, Format (B × H): 187 mm x 261 mm, Gewicht: 918 g
Erhältlich auch als Buch
Methods and Protocols
1. Auflage 2017,
Band: 1538
372 Seiten, Gebunden, Book, Format (B × H): 187 mm x 261 mm, Gewicht: 918 g Reihe: Methods in Molecular Biology
ISBN: 978-1-4939-6686-8
Verlag: Springer, Berlin
Seite exportieren
---
(inkl. MwSt.)
versandkostenfreie Lieferung
sofort versandfertig, Lieferfrist: 1-3 Werktage
---
---
---
---
---
---
This detailed volume collects protocols for experimentation into how neurons connect to produce the extraordinary functionalities of the nervous system. Contributed by experts and pioneers in their respective techniques, the book covers synapses in the brain and in culture, their constituents, their structures, their dynamics, and the assemblies they form, all in the structure of a laboratory guide. Written for the highly successful Methods in Molecular Biology series, chapters include brief introductions to their respective topics, lists of the necessary materials and reagents, step-by-step, readily reproducible laboratory protocols, and tips on troubleshooting and avoiding known pitfalls.
Authoritative and practical, Synapse Development: Methods and Protocols serves as an ideal guide to minimizing the barrier to entry for the integration of new approaches with existing expertise, producing syntheses that will foster novel perspectives on the many ways in which synapses form, transform, and transmit.
Herausgeber


Part I: Forming Synapses in a Dish

1. A Cell Culture System to Investigate the Presynaptic Control of Subsynaptic Membrane Differentiation at the Neuromuscular Junction

Nadine Schmidt, Sreya Basu, Stephan Köger, and Hans Rudolf Brenner

2. Co-Culture Synaptogenic Assay: A New Look at Fluorescence Reporters and Technological Devices

Karen Perez de Arce and Massimiliano Stagi

3. Synaptogenic Assays Using Neurons Cultured on Micropatterned Substrates

Katalin Czöndör and Olivier Thoumine

4. Monitoring Synapses Via Trans-Synaptic GFP Complementation

Theodoros Tsetsenis

5. Generation of Spinal Motor Neurons from Human Pluripotent Stem Cells

David P. Santos and Evangelos Kiskinis

Part II: Analyzing Synaptic Constituents

6. Biochemical Purification of Binding Partners of Synaptic Scaffold Proteins

Bekir Altas, Olaf Jahn, and Hiroshi Kawabe

7. In Situ Protein Binding Assay Using Fc-Fusion Proteins

Nirmala Padmanabhan and Tabrez J. Siddiqui

8. Reconstitution of Synaptic SNAREs into Large Liposomes with Reduced Curvature Stress

Javier M. Hernandez

9. Isolation of Synaptosomes, Synaptic Plasma Membranes, and Synaptic Junctional Complexes

Mary L. Michaelis, Lei Jiang, and Elias K. Michaelis 10. Purification of Synaptosome Populations Using Fluorescence-Activated Synaptosome Sorting

Elisa Luquet, Christoph Biesemann, Annie Munier, and Etienne Herzog

Part III: Observing Synaptic Structure and Ultrastructure

11. Optimized Protocol for Imaging Cleared Neural Tissues Using Light Microscopy

Yoh Isogai, Douglas Richardson, Catherine Dulac, and Joseph Bergan

12. Structured Illumination Microscopy for the Investigation of Synaptic Structure and Function

Soyon Hong, Daniel K. Wilton, Beth Stevens, and Douglas S. Richardson

13. 3D d STORM Imaging of Fixed Brain Tissue

Frank Herrmannsdörfer, Benjamin Flottmann, Siddarth Nanguneri, Varun Venkataramani, Heinz Horstmann, Thomas Kuner, and Mike Heilemann

14. Photomarking Relocalization Technique for Correlated Two-Photon and Electron Microcopy Imaging of Single Stimulated Synapses

Miquel Bosch, Jorge Castro, Mriganka Sur, and Yasunori Hayashi

15. 3D Analysis of Synaptic Ultrastructure in Organotypic Hippocampal Slice Culture by High-Pressure Freezing and Electron Tomography

Cordelia Imig and Benjamin H. Cooper

16. Analyzing Endosomal Docking, Fusion, Sorting, and Budding Mechanisms in Isolated Organelles

Sina V. Barysch and Ioanna Bethani

17. Concurrent Imaging of Receptor Trafficking and Calcium Dynamics by Spinning Disk Confocal Microscopy

DeLaine D. Larsen, Regina Wai-Yan Choy, and Minjong Park

18. Imaging Activity-Dependent Signaling Dynamics at the Neuronal Synapse Using FRET-Based Biosensors

Zohreh Farsi and Andrew Woehler

19. Analyzing Structural Plasticity of Dendritic Spines in Organotypic Slice Culture

Mathias De Roo and Adema Ribic

Part V: Revealing Patterns of Synaptic Connectivity

20. Using Fluorescent Markers to Estimate Synaptic Connectivity In Situ

Mrinalini Hoon, Raunak Sinha, and Haruhisa Okawa

21. Dual Anterograde and Retrograde Viral Tracing of Reciprocal Connectivity

Matthias G. Haberl, Melanie Ginger, and Andreas Frick

22. Mapping Synaptic Inputs of Developing Neurons Using Calcium Imaging

Johan Winnubst and Christian Lohmann

23. Monosynaptic Tracing in Developing Circuits Using Modified Rabies Virus

Laura Cocas and Gloria Fernandez

Professional/practitioner
versandkostenfreie Lieferung
---
149,79 €

(inkl. MwSt.)
sofort versandfertig, Lieferfrist: 1-3 Werktage
---
Webcode: sack.de/g441j
Bitte ändern Sie das Passwort