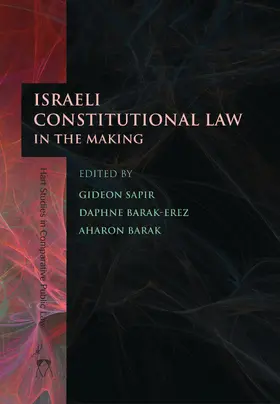 Sapir / Barak-Erez / Barak
Israeli Constitutional Law in the Making
---
(inkl. MwSt.)
versandkostenfreie Lieferung
Lieferfrist: bis zu 10 Tage
---
---
---
---
---
---
---
In the domain of comparative constitutionalism, Israeli constitutional law is a fascinating case study constituted of many dilemmas. It is moving from the old British tradition of an unwritten constitution and no judicial review of legislation to fully-fledged constitutionalism endorsing judicial review and based on the text of a series of basic laws. At the same time, it is struggling with major questions of identity, in the context of Israel's constitutional vision of 'a Jewish and Democratic' state.
Israeli Constitutional Law in the Making offers a comprehensive study of Israeli constitutional law in a systematic manner that moves from constitution-making to specific areas of contestation including state/religion relations, national security, social rights, as well as structural questions of judicial review. It features contributions by leading scholars of Israeli constitutional law, with comparative comments by leading scholars of constitutional law from Europe and the United States.
Herausgeber


Sapir, Gideon
Gideon Sapir is a Professor of Constitutional Law at the Faculty of Law of Bar-Ilan University.

Barak-Erez, Daphne
Daphne Barak-Erez is a Justice of the Supreme Court of Israel. She was formerly Dean of the Faculty of Law at Tel Aviv University.

Barak, Aharon
Aharon Barak served as the President of the Supreme Court of Israel and is currently Professor of Law at the IDC.


Part 1 Towards a Full-Fledged Constitution
2. Why a Constitution - in General and in Particular in the Israeli Context?
Gideon Sapir
3. The Right to Judicial Review: The Israeli Case
Alon Harel
4. The Purpose of the Israeli Constitution
Ariel L Bendor
5. Consensus, Dissensus, and Constitutionalism
Sanford Levinson
Part 2 Models of Judicial Review in Israeli Constitutional Law
6. Majestic Constitutionalism? The Notwithstanding Mechanism in Israel
Tsvi Kahana
7. Constitutional Adjudication and Political Accountability: Comparative Analysis and the Peculiarity of Israel
Yoav Dotan
8. Justifying Judicial Review: The Changing Methodology of the Israeli Supreme Court
Joshua Segev
9. The Democratic Case for Diffuse Judicial Review in Israel
Ori Aronson
10. Constitutional Adjudication in Israel: Some Comments
Víctor Ferreres Comella
Part 3 Global Impacts on Israeli Constitutional Law
11. The Use of Foreign Law in Israeli Constitutional Adjudication
Iddo Porat
12. The Israeli Case of a Transformative Constitutionalism
Moshe Cohen-Eliya
13. Proportionality in Israel and Beyond: Four Aspects
Margit Cohn
14. Constitutional Law in an Age of Globalization
Vicki C Jackson
Part 4 Balancing in Israeli Constitutional Law
15. Constitutional Proportionality: (Appropriate) Guidelines
Mordechai Kremnitzer
16. The Deficiencies of Balancing: Restricting Speech due to Offence to Feelings
Yaacov Ben-Shemesh
17. Proportionality: Comparative Perspectives on Israeli Debates
Sujit Choudhry
Part 5 'Unenumerated Rights' in Israeli Constitutional Law
18. Human Dignity as a Central Pillar in Constitutional Rights Jurisprudence in Israel: Definitions and Parameters
Tamar Hostovsky Brandes
19. The Inherent Authority of Judges in a Three-Track Democracy to Recognise Unenumerated Constitutional Rights: The Israeli Story of a Judicial Mission with No Ammunition
Sharon Weintal
20. Perpetual Constitutional Moments: A Reply to Hostovsky Brandes and Weintal
David Fontana
Part 6 Social Rights in Israel
21. In Search of the Right to Health in Israeli Constitutional Law
Aeyal Gross
22. The Fiscal Objection to Social Welfare Rights: A Closer Look
Amir Paz-Fuchs
23. Constitutional Review of 'Eligibility Conditions' in Social Rights Litigation
Neta Ziv
24. The New Consensus on Enforcing Social Welfare Rights: Comments on Three Papers
Mark Tushnet
Part 7 Constitutional Rights and Private Law
25. Constitutional Rights and Private Law
Aharon Barak
26. Human Rights in Private Law: Hybridization of the Balancing Tests
Michal Tamir
27. Private Actors and Constitutional Rights
Stephen Gardbaum
Part 8 Constitutional Rights and 'State of Emergency'
28. The National Security Constitution and the Israeli Condition
Daphne Barak-Erez
29. The Role of the Legislature in Determining Legitimate Responses to Security Threats: The Case of Israel
Barak Medina
30. Of Law, Constitutions and Security
Adam Tomkins
Part 9 Israel - 'Jewish and Democratic'
31. Jewish and Democratic: Three Zionisms and Post-Zionism
Chaim Gans
32. A Jewish Nation-State: A Discussion in Light of the Family Reunification Case
Aviad Bakshi and Gideon Sapir
33. National Identity and Religion-State Relations: Israel in Comparative Perspective
Gila Stopler
34. The Dilemmas of Identity in a Jewish and Democratic State: A Comparative Constitutionalist Perspective on Bakshi and Sapir, Gans, and Stopler
Susanna Mancini and Michel Rosenfeld
Scholars of Comparative Constitutional Law
versandkostenfreie Lieferung
---
139,58 €

(inkl. MwSt.)
Lieferfrist: bis zu 10 Tage
Aufgrund der Corona-Krise kann es in Einzelfällen zu deutlich längeren Lieferzeiten kommen.
---
Webcode: sack.de/1izyr
Bitte ändern Sie das Passwort