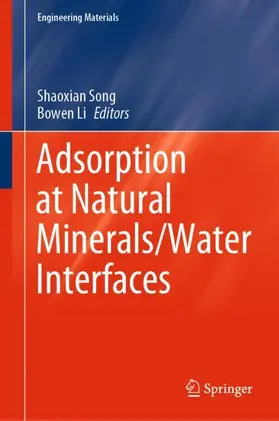 Song / Li
Adsorption at Natural Minerals/Water Interfaces
---
Buch, Englisch, Reihe:
Engineering Materials
316 Seiten, Gebunden, HC runder Rücken kaschiert, Format (B × H): 156 mm x 23 mm, Gewicht: 607 g
1. Auflage 2021, 316 Seiten, Gebunden, HC runder Rücken kaschiert, Format (B × H): 156 mm x 23 mm, Gewicht: 607 g Reihe: Engineering Materials
ISBN: 978-3-030-54450-8
Verlag: Springer, Berlin
Seite exportieren
---
(inkl. MwSt.)
versandkostenfreie Lieferung
Lieferfrist: bis zu 10 Tage
---
---
---
---
---
---
---
This book introduces the latest research regarding the adsorption of heavy metals, toxic ions, and organic compounds at the interfaces of water/minerals, such as mineralogical characterizations, surface chemistry, and modification of natural minerals as adsorbents, as well as the adsorption of cations, anions, and organic compounds in water. Presenting findings by the authors and their co-workers, the book helps readers grasp the principals and benefits of using minerals for water treatment, as well as the advanced technologies in the area developed over last 30 years, especially the last 10 years.
Herausgeber


Song, Shaoxian

Dr. Bowen Li is a Research Professor at the Department of Materials Science and Engineering and Institute of Materials Processing at Michigan Technological University, USA. His research interests include applied mineralogy, materials characterization, metal extraction, ceramic processing, antimicrobial surface treatment, and solid waste reuse. He has authored over 100 publications, authored/co-edited 8 books, and holds 15 patents. Dr. Li received his Ph.D. in Mineralogy and Petrology from China University of Geosciences Beijing in 1998, and his Ph.D. in Materials Science and Engineering from Michigan Technological University, USA, in 2008. He has been an active member in The Minerals, Metals and Materials Society, the Society for Metals, Mining and Exploration, and the China Ceramic Society.

Dr. Shaoxian Song is the Chief Professor and Dean of the School of Resources and Environmental Engineering at Wuhan University of Technology, China, and is also a Tenured Professor at the Universidad Autonoma de San Luis Potosi, Mexico. He received his Ph.D. in Mineral Engineering from the Central South University, China. He worked as a Postdoctoral Fellow at the University of Toronto, Canada. He has authored about 300 publications, including three books in the areas of colloid chemistry, mineral engineering, and water treatment. He is a member of the Mexican Academy of Science.






1.       Mineral Adsorbents and Characteristics

Author: Dr. Yunliang Zhao

Chapter 1. Mineral Adsorbents and Characteristics              

1.1 Gerenal introduction  

1.2 Mineral adsorbents classification          

1.2.1 Layered minerals      

1.2.2 Porous Mineral         

1.2.3 Other minerals          

1.3 Characterization technology of mineral absorbents      

1.3.1 X-Ray Diffraction (XRD)          

1.3.2 X-ray fluorescence (XRF)      

1.3.3 ICP-AES        

1.3.4 AFM               

1.3.5 SEM                43

1.3.6 TEM               

1.3.7 XPS  47

1.3.8 FTIR 49

1.3.9 Raman spectrum      

1.3.10 Nuclear magnetic resonance            

1.3.11 Specific surface area and porosity  

1.3.12 Zeta potential (_)                   

References

 

2.       Surface Chemistry of Mineral Adsorbents

Author: Dr. Shaoxian Song, Dr. Weijun Peng, Dr. Hongqiang Li

2.1 Introduction   

2.2 Internal and External Surfaces               

2.2.1 Characteristics           

2.2.2 Measurements         

2.3 Surface Charges           

2.3.1 Characteristics

2.3.2 Auxiliary Categories of Surface Charge           

2.3.3 Surface charge of trilayer mineral adsorbents             

2.3.4 Surface charge of Bilayer clay minerals           

2.3.5 Surface charge for adsorption            

2.4 Surface Interactions   

2.4.1 Water-mineral adsorbents surface interaction            

2.4.2 Surface interaction for adsorption    

2.5 Adsorption Thermodynamics 

2.5.1 Adsorption reaction process               

2.5.2 Activation energy     

2.5.3 Thermodynamic parameters               

2.6 Adsorption Kinetics     

2.6.1 Surface reaction       

2.6.2 Intra-particle diffusion           

2.6.3 Liquid film diffusion 

2.7 Characterization technology of adsorption       

2.7.1 Component characterization technology       

2.7.2 Structural and Morphology characterization technology         

2.7.3 Surface and interface properties characterization technology              

2.7.4 Characterization technology of other property           

References

 

3.Modification of Mineral Surfaces and Microstructures

Author:Dr. ShenxuBao

3.1 Introduction   

3.2 Modification methods for mineral surface and microstructure

3.3 Modifying agents and applications       

3.3.1 Coupling reagent      

3.3.2 Surfactant   

3.3.3 Organosilicon             

3.3.4 Unsaturated organic acids    

3.3.5 Polyolefin oligomer 

3.3.6 Water-soluble macromolecule           

3.3.7 Inorganic surface modifier   

3.4 Evaluation of modification       

3.4.1 Chemical and morphology analysis   

3.4.3 Contact angle analysis            

References            

 

4. Adsorption of Minerals to Anions

Author:Dr. FeifeiJia and Dr. Min Dai

Introduction

4.1 Arsenic adsorption      

4.1.1 Arsenic species, toxicity and distribution       

4.1.2 Adsorption 

4.1.3 Adsorption mechanism         

4.2 Phosphorus adsorption            

4.2.1 Contamination, origin, harm, distribution      

4.2.2 Adsorption 

4.2.3 Adsorption mechanism         

4.3 Fluoride Adsorption   

4.3.1 Fluoride Contamination        

4.3.2 Adsorbents

4.3.3 Adsorption behaviour            

4.3.4 Effecting factors       

4.3.5 Adsorption Mechanism         

4.4 Nitrate Adsorption      

4.4.1 Contamination, origin, harm and treatment technology of nitrate     

4.4.2 Mineral adsorbent  

4.4.3 Interference              

4.4.4 Mechanism

References           

 

5. Adsorption of Minerals to Cations

Author:Dr. Feng Rao

5.1. General introduction

5.2 Fundamentals of adsorption of minerals to cations      

5.2.1 Types of mineral adsorbents and adsorption mechanisms

5.2.2 Determining cation adsorption amount and phenomenon

5.3 Adsorption of minerals to heavy metal cations in water treatment       

5.3.1 Adsorption of lead (Pb), copper (Cu), cadmium (Cd) and mercury (Hg) on mineral surface     

5.3.2 Cr adsorption on mineral surface      

5.4 Adsorption of minerals to cations in flotation  

5.5 Examples of the adsorption of minerals to cations in other engineering processes

5.5.1 Biological process     

5.5.2 Ag-PILC syntheses   

References            

 

6. Adsorption of Minerals to Organic Compounds 

Author:Dr. Bowen Li, and Jing Su

6.1 General Introduction 

6.1.1 Organic compounds

6.1.2 Adsorption of organic compounds    

6.1.3 The adsorption mechanisms on minerals       

6.1.3.1 Electrostatic attraction       

6.2 Dyes adsorption on minerals  

6.2.1 General introduction of dyes              

6.2.2 Dyes adsorption on minerals               

6.3 Phenolic compounds adsorption on minerals  

6.3.1 General introduction of phenolic compounds             

6.3.2 Phenolic compounds adsorption on minerals              

6.3.3 P-nitrophenol(PNP) adsorption on minerals

6.3.4 Bisphenol A adsorption on minerals.               

6.4 Antibiotic adsorption on minerals         

6.4.1 General introduction of antibiotics   

6.4.2 Minerals for antibiotic adsorption     

6.5 Perfluorooctanesulphonate (PFOS) adsorption on minerals     

6.5.1 The introduction of perfluorooctanesulphonate (PFOS)         

6.5.2 Minerals for PFOS adsorption             

Reference              

 

7. Bioadsorption of Minerals

Author:Dr. Ling Xia and Dr. Liyuan Ma

7.1 General Introduction 

7.2 Bacteria adsorption     

7.2.1 Adsorption mechanism         

7.2.2 Factors affecting adsorption of bacteria on mineral surface  

7.2.3 Influences on minerals and bacteria

7.2.4 Bioweathering by bacteria   

7.2.5 Biobeneficiation by bacteria

7.2.6 Application of bacteria-minerals interaction in environmental engineering    

7.3 Fungi adsorption          

7.4 Algae adsorption          

7.4.1 Algal surface property            

7.4.2 Algal bioweathering and biomineralization   

7.4.3 Application of algal-minerals interaction in environmental engineering           

7.5 Biomacromolecules adsorption             

7.5.1 Humic substances    

7.5.2 Extracellular polymeric substances   

7.5.3 Proteins       

7.5.4 Nuclear acids              

References            

 

8. Contaminated Water Treatment

Author: Dr. Changsheng Peng

8.1 Contaminated Water/ Wastewater     

8.2 Sources of Wastewater Generation and their Characteristics

8.3 Types and Sources of Wastewater Pollutants  

8.3.1 Point Sources             

8.3.2 Non-Point Sources  

8.4 Treatment Technologies for Various Types of Wastewaters     

8.5 Adsorption Technology in Wastewater Treatment        

8.5.1 Adsorption Mechanisms       

8.5.2 Reversible adsorption            

8.5.3 Irreversible adsorption          

References

 

9. Dewatering of Mineral Adsorbents

Author:Dr. Yubiao Li

9.1  Introduction   383

9.2 Water states and types in Selected Mineral Adsorbents            

9.3 Dewatering Methods and Processes   

9.4 Dewatering mechanisms          

References             
versandkostenfreie Lieferung
---
149,79 €

(inkl. MwSt.)
Lieferfrist: bis zu 10 Tage
---
Webcode: sack.de/b1rw8
Bitte ändern Sie das Passwort