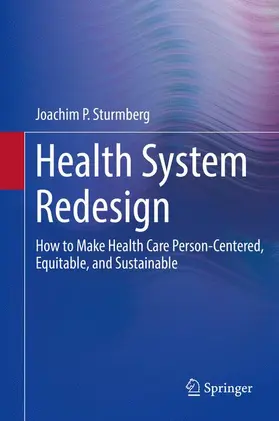 Sturmberg
Health System Redesign
How to Make Health Care Person-Centered, Equitable, and Sustainable
1st ed. 2018
ISBN: 978-3-319-64604-6
Verlag: Springer, Berlin
Seite exportieren
---
Buch, Englisch,
297 Seiten, Gebunden, Book, Format (B × H): 157 mm x 243 mm, Gewicht: 641 g
Erhältlich auch als Buch
How to Make Health Care Person-Centered, Equitable, and Sustainable
1st ed. 2018, 297 Seiten, Gebunden, Book, Format (B × H): 157 mm x 243 mm, Gewicht: 641 g
ISBN: 978-3-319-64604-6
Verlag: Springer, Berlin
Seite exportieren
---
---
---
---
---
---
---
This forward-looking volume challenges professionals and interested lay readers to reconsider our ways of looking at health and wellness, illness and disease, and the goals of health/healthcare systems. Reframing health systems as complex adaptive systems, the book identifies health care as a central aspect of social care and security for all people, particularly the most vulnerable. From there, the author outlines necessary organizational, design, medical, and community steps toward building health systems that view and practice health care as a human right and can produce optimum care in the long term. And extensive illustrations display effective collaborative problem solving within these systems, in both intriguing theoretical models and the real world.   Highlights of the coverage:   ·         Systems and complexity thinking in health and health care·         Redesign based on "first principles"·         Redesign from an organizational perspective·         Working together effectively and efficiently to achieve a common purpose·         Analyzing "the workings" of health systems as complex adaptive systems·         Person-centered, equitable, and sustainable health systems: achieving the goal  Health System Redesign brings a voice and a vision to the most pressing problems in healthcare service delivery, and offers new goals and purpose to health policymakers, health financiers, organizational leaders, clinicians, and concerned members of the local community
Autoren


Sturmberg, Joachim P.
Joachim P. Sturmberg, MBBS, DORACOG, MFM, PhD, FRACGP, is conjoint associate professor of General Practice in the School of Medicine and Public Health, Faculty of Health and Medicine, at The University of Newcastle in Newcastle, Australia. He is a graduate of Lübeck Medical School in Germany, where he also completed his PhD. Since 1989, Sturmberg has worked in an urban group practice in the Central Coast of New South Wales. His research focuses on understanding the complex interconnected features of person-centered healthcare. Together with his collaborators, Sturmberg proposes that a truly functional health system ought to always focus on the needs of the person/patient across all domains affecting health -- local health delivery services, local and regional social and economic infrastructure and services, as well as in all portfolios at the national policy levels. These complex interdependent features of a person-centered healthcare system are described by the health vortex model. Sturmberg's current research focuses on operationalizing the health vortex model, integrating the physiology of health with health care delivery, the socioeconomic domains affecting health, and the impact of policy decisions on health and the healthcare system.


Introduction
Part 1 - Complexity and Healthcare o Complexity Sciences o Visualisation of complex adaptive systems o Defining Health
Part 2 - The "Ideal" Health System o The Ideal health system o The Ideal health system - An Organisational perspective o The Ideal health system - Real World examples o Leadership - A prerequisite to achieve an ideal health system
Part 3 - Achieving a Person-Centered, Equitable, and Sustainable Health System o Analysing the workings of health systems as systems o Health System Redesign - Applying CAS approaches o Obesity - A multifaceted approach o Complex adaptive health systems - A win-win-win solution
Appendices - Literature Excerpts o Conceptual frameworks of complexity sciences o A pragmatic guide for leaders to change frames and habits of mind for complexity thinkers o Guide to developing a model o Values in Healthcare
Professional/practitioner