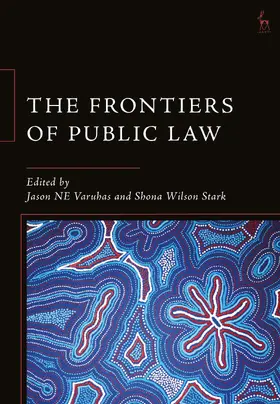 Varuhas / Wilson Stark
The Frontiers of Public Law
Erscheinungsjahr 2020
ISBN: 978-1-5099-3037-1
Verlag: Hart Publishing
Seite exportieren
---
Buch, Englisch,
552 Seiten, Gebunden, Format (B × H): 169 mm x 244 mm
Erscheinungsjahr 2020, 552 Seiten, Gebunden, Format (B × H): 169 mm x 244 mm
ISBN: 978-1-5099-3037-1
Verlag: Hart Publishing
Seite exportieren
---
---
---
---
---
---
This major collection contains selected papers from the third Public Law Conference, an international conference hosted by the University of Melbourne in July 2018. The collection includes contributions by leading academics and senior judges from across the common law world, including Australia, Canada, New Zealand, the United Kingdom and the United States. The collection explores the frontiers of public law, examining cutting-edge issues at the intersection of public law and other fields. The collection addresses four principal frontiers: public law and international law; public law and indigenous peoples; public law and other domestic fields, specifically criminal law and private law; and public law and public administration. In common with the two books from the previous Public Law Conferences, this collection offers authoritative insights into the most important issues emerging in public law, and is essential reading for those working in the field.
Herausgeber


Varuhas, Jason NE
Jason NE Varuhas is a Professor of Law at the University of Melbourne. He is also an Associate Fellow of the University of Cambridge Centre for Public Law and the 2019 Robert S Campbell Visiting Fellow in Law at Magdalen College, Oxford. He has formerly held academic positions at the University of Cambridge and University of New South Wales. He has published widely in the fields of public law, tort law and remedies, and his work has been cited by courts in the UK, Australia and New Zealand. He is the author or editor of seven books, and his book Damages and Human Rights (Hart Publishing) was awarded the 2016 UK Society of Legal Scholars Peter Birks Prize for Outstanding Legal Scholarship and the 2018 Inner Temple New Authors Book Prize. He is a founder and convenor of the Public Law Conference series, the leading international conference on public law in common law systems.

Wilson Stark, Shona
Shona Wilson Stark is a University Lecturer in Public Law at the Law Faculty at the University of Cambridge, and an Official Fellow of Girton College, Cambridge.

Photograph courtesy of University of Cambridge.


1. Introduction: The Frontiers of Public Law
Jason NE Varuhas and Shona Wilson Stark

PART 1
PUBLIC LAW AND INTERNATIONAL LAW
2. Global Constitutionalism: Myth and Reality
Cheryl Saunders
3. Frontiers of Global Administrative Law in the 2020s
Benedict Kingsbury
4. National Security Policy-making in the Shadow of International Law: The Case of the PPG
Laura A Dickinson
5. Public Law in the UK after Brexit
Jack Beatson and Emma Foubister

PART 2
PUBLIC LAW AND INDIGENOUS PEOPLES
6. Indigenous Rights, Judges and Judicial Review in New Zealand
Matthew SR Palmer
7. Coming to Terms with Communal, Land-related Decision-making by Aboriginal and/or Torres Strait Islander Peoples in a Public Law Context
Debbie Mortimer
8. Representing Jurisdiction: Decolonising Administrative Law in a Multijural State
Mary Liston
9. From the Heart: The Indigenous Challenge to Australian Public Law
Kirsty Gover
10. Public Law, Legitimacy and Indigenous Aspirations
Harry Hobbs
11. Places as Persons: Creating a New Framework for Maori-Crown Relations
Andrew Geddis and Jacinta Ruru

PART 3
PUBLIC LAW, CRIMINAL LAW AND PRIVATE LAW
12. Changing Boundaries: Crime, Punishment and Public Law
David Feldman
13. Discretionary Power and Consistency: Is the Sentencing Discretion Different?
Chris Maxwell
14. Public and Private Law: A Redundant Divide
Carol Harlow
15. The 'Contracting State' and the Public/Private Divide
ACL Davies
16. Public and Private Boundaries of Administrative Law
Margaret Allars

PART 4
PUBLIC LAW AND PUBLIC ADMINISTRATION
17. The Nature and Bounds of Executive Power: Keeping Pace with Change
KM Hayne
18. Peering into the Black Box of Executive Power: Cabinet Manuals, Secrecy and the Identification of Convention
Anne Twomey
19. Fomenting Authoritarianism Th rough Rules About Rulemaking
Kathryn E Kovacs
20. Non-fettering, Legitimate Expectations and Consistency of Policy: Separate Compartments or Single Principle?
Shona Wilson Stark
21. The In-between Space of Administrative Justice: Reconciling Norms
at the Front Lines of Social Assistance Agencies
Jennifer Raso
22. A 'Culture of Justification'? Police Interpretation and Application of the Human Rights Act 1998
Richard Martin