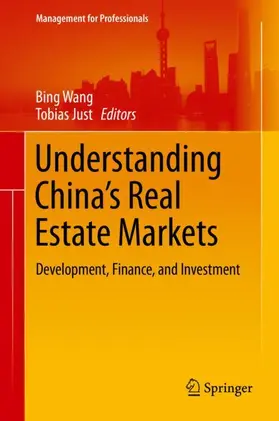 Wang / Just
Understanding China's Real Estate Markets
Development, Finance, and Investment
1. Auflage 2020
ISBN: 978-3-030-49031-7
Verlag: Springer, Berlin
Seite exportieren
---
(inkl. MwSt.)
versandkostenfreie Lieferung
vorbestellbar, Erscheinungstermin ca. September 2020
---
---
---
---
---
---
---
China's economy has been transforming rapidly over the last 25 years. As a result, Chinese conurbations have changed significantly, with cities expanding both vertically and horizontally in order to offer more space for residents, office and industrial workers, and for commercial purposes. This has provided vast opportunities for investors, real estate developers and service companies, but also presents huge challenges – as traditional city spaces have been reconfigured, environmental risks and the volatility of real estate markets have increased. However, the opportunities appear to outweigh the risks, and engagement with China is becoming strategically important for many. Exploring how international real estate professionals can understand China's variegated real estate market, players and dynamics, and how they can avoid the risks, this book offers a concise and thoughtful introduction to all relevant areas of real estate, including economic, legal, tax, planning and financing issues.
Herausgeber


Wang, Bing
Bing Wang is an Associate Professor of Real Estate and the Built Environment at Harvard University Graduate School of Design (GSD) and Area Head for Master of Design Real Estate and the Built Environment. She is Faculty Co-Chair for the Real Estate Management program, a joint program between the GSD and Harvard Business School, and the Advanced Real Estate Development program. Prof. Wang holds a Bachelor of Architecture degree from Tsinghua University and master's and doctoral degrees from Harvard University. She worked at Lehman Brothers before founding her own real estate investment management firm. She acts as an advisor for multinational companies in the US, China, Japan, Saudi Arabia and Singapore. Her publications include the books The Architectural Profession of Modern China (2011), Prestige Retail Design and Development (2014), and Global Leadership in Real Estate and Design (2015). She is on the Steering Committee of Harvard China Fund, on the board of the Chinese Society of Urban Studies, and is an elected Board Director of the American Real Estate Society (ARES).


Tobias Just is the Managing and Academic Director at the IREBS Immobilienakademie and a Professor of Real Estate at the University of Regensburg. Prof. Just studied Economics in Hamburg and Uppsala (Sweden). His doctoral dissertation was awarded the university science prize in 2001. He subsequently worked for more than ten years at Deutsche Bank Research. Prof. Just has published more than 160 papers in professional and academic journals and books and eight books on various real estate and economics topics. He is President of the German Society of Property Researchers (gif), and an editor for ZIÖ - the German Journal of Real Estate Research. In 2017, Prof. Just became a Fellow of the RICS. From 2012 to 2018 he was a member of the Executive Management Board of the German section of the Urban Land Institute.


Introduction.-Part I.- Macro Environment.- The Evolving Market Structure of Chinese Real Estate Companies.- Navigating the Property Data Landscape in China.- China's Economy at the Crossroads.- China's Provinces - Addressing the Discrepancies at the Local Level.- Hong Kong: A Review of its Leasehold Land System, Real Estate Market and Related Matters.- Part II.- Judicial and Tax Framework.- Legal Framework for Real Estate Asset Classes in China and the Developments in Foreign Investment in the Real Estate Market in China.- Regulating Leasing Activities.- Real Estate Valuation in China.- Tax Framework for International Investors Accessing China Real Estate Asset Classes.- Part III.- Financing.- The Leverage Game: From Offshore to Onshore.- Housing Finance at the Crossroads - Access and Affordability in an Ageing Society.- Listing and M&A of Chinese Real Estate Enterprises.- Real Estate Private Equity Investing in China: From a Practitioner's Perspective.- The Development of REIT Markets in Greater China.- Scenarios of Real Estate Backed Securitization and Financing in China.- Part IV.- Asset Classes.- Minding the Strategies: Analysis of a Strategic Development Model.- China's Housing Markets.- Thoughts on China's Medium- and Long-Term Real Estate Policies: Decentralizing, Impartial, and Legalizing Regulation.- Luxury Hotel Markets and Development.- Sustainable Buildings and Practice in China.- The Rise of Platform-Based Networks: Outlook for Real Estate Brokerage Industry in China.
Professional/practitioner
versandkostenfreie Lieferung
---
90,94 €

(inkl. MwSt.)
vorbestellbar, Erscheinungstermin ca. September 2020
---
Webcode: sack.de/c3j9e
Bitte ändern Sie das Passwort