Wir sind für Sie erreichbar. Ihre Bestellungen nehmen wir online, per E-Mail oder Telefon gerne entgegen. Alle Informationen zur aktuellen Situation sowie Ihre Ansprechpartner finden Sie »hier.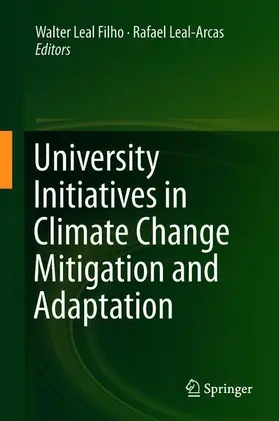 Leal Filho / Leal-Arcas
University Initiatives in Climate Change Mitigation and Adaptation
---
Buch, Englisch,
403 Seiten, Gebunden, Book, Format (B × H): 162 mm x 240 mm, Gewicht: 780 g
Erhältlich auch als Buch
1. Auflage 2019, 403 Seiten, Gebunden, Book, Format (B × H): 162 mm x 240 mm, Gewicht: 780 g
ISBN: 978-3-319-89589-5
Verlag: Springer, Berlin
Seite exportieren
---
(inkl. MwSt.)
versandkostenfreie Lieferung
sofort versandfertig, Lieferfrist: 1-3 Werktage
---
---
---
---
---
---
---
This book focuses on the role of higher education institutions in addressing climate change mitigation and adaptation challenges, contributing to the development of this fast-growing field. Further, it includes the results of empirical research and offers ideas regarding on-going and future research initiatives. The contributions also• showcase the research and projects on issues pertaining to climate change at universities from across the globe;• document and promote ideas and experiences acquired in the execution of research projects, especially successful initiatives and best practices; and• introduce methodological approaches and projects that offer a better understanding of climate change across society and economic sectors.The book is structured around two parts: lessons learned from climate change research, education, studies and projects. Each part focuses on mitigation and adaptation respectively, with many responses of the two modalities overlapping.This book is a valuable resource for researchers and practitioners in the fields of environment, human geography, business and economics, as well as academics and students, as it presents education, communication and awareness-raising projects on matters related to climate change at universities in both industrialised and developing countries, often in cooperation with government bodies, NGOs and other stakeholders.
Herausgeber


Leal Filho, Walter
Professor Walter Leal Filho (BSc, PhD, DSC, DPhil, DL, DEd, DLit) is a professor at Hamburg University of Applied Sciences in Germany, and at Manchester Metropolitan University, UK. He is the founding director of the World Sustainable Development Research and Transfer Centre, a recently created centre aimed at supporting the implementation of the UN Sustainable Development Goals. He has nearly 30 years experience on matters related to sustainable development, and has over 400 publications to his credit.
Rafael Leal-Arcas is Professor of European and International Economic Law, holds the first ever Jean Monnet Chair in EU International Economic Law awarded in the UK by the European Commission, and is the Director of Research at QMUL's Centre for Commercial Law Studies (CCLS). He teaches, and is the convenor of, the courses International Economic Law; Trade, Climate Change and Energy: EU and international perspectives; International Trade and Investment Law of the EU; as well as the External Relations Law of the European Union in the LLM programme. In addition, he teaches International Investment Law and Policy and Climate Change Law and Policy in the LLM programme. In 2011-2013, he served as a Marie Curie COFIT Senior Research Fellow at the World Trade Institute (University of Bern) in the framework of the EU FP7 research fellowship programme. He has thrice been a Drapers' Award nominee for excellence in teaching. In 2008, Rafael was named the best teacher of the University of Vienna School of Law 2008 Summer School (NICLAS), of which Queen Mary University of London is a participant. From 2006 to 2009, he was Deputy Director of Graduate Studies at CCLS.


Part I: Experiences from Climate Change Research, Education and Studies.- Part II: Experiences and Lessons from Climate Change and Related Projects.
versandkostenfreie Lieferung
---
139,09 €

(inkl. MwSt.)
sofort versandfertig, Lieferfrist: 1-3 Werktage
---
Webcode: sack.de/28r9x
Bitte ändern Sie das Passwort