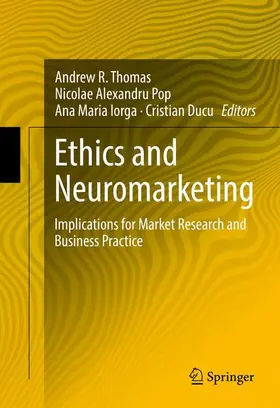 Thomas / Pop / Iorga
Ethics and Neuromarketing
Implications for Market Research and Business Practice
1. Auflage 2017
ISBN: 978-3-319-45607-2
Verlag: Springer, Berlin
Seite exportieren
---
Buch, Englisch,
209 Seiten, Gebunden, Book, Format (B × H): 160 mm x 241 mm, Gewicht: 492 g
Erhältlich auch als Buch
Implications for Market Research and Business Practice
1. Auflage 2017, 209 Seiten, Gebunden, Book, Format (B × H): 160 mm x 241 mm, Gewicht: 492 g
ISBN: 978-3-319-45607-2
Verlag: Springer, Berlin
Seite exportieren
---
(inkl. MwSt.)
versandkostenfreie Lieferung
sofort versandfertig, Lieferfrist: 1-3 Werktage
---
---
---
---
---
---
---
This book addresses the emerging field of neuromarketing, which, at its core, aims to better understand the impact of marketing stimuli by observing and interpreting human emotions. It includes contributions from leading researchers and practitioners, venturing beyond the tactics and strategies of neuromarketing to consider the ethical implications of applying powerful tools for data collection. The rationale behind neuromarketing is that human decision-making is not primarily a conscious process. Instead, there is increasing evidence that the willingness to buy products and services is an emotional process where the brain uses short cuts to accelerate the decision-making process.

At the intersection of economics, neuroscience, consumer behavior, and cognitive psychology, neuromarketing focuses on which emotions are relevant in human decision-making, and uses this knowledge to make marketing more effective. The knowledge is applied in product design; enhancing promotions and advertising, pricing, professional services, and store design; and improving the consumer experience as a whole. The foundation for all of this activity is data gathering and analysis. Like many new processes and innovations, much of neuromarketing is operating far ahead of current governmental compliance and regulation and thus current practices are raising ethical issues. For example, facial recognition software, used to monitor and detect a wide range of micro-expressions, has been tested at several airports—under the guise of security and counterterrorism. To what extent is it acceptable to screen the entire population using these powerful and intrusive techniques without getting passengers' consent? Citing numerous examples from the public and private sectors, the editors and contributing authors argue that while the United States has catalyzed technological advancements, European companies and governments are more progressive when it comes to defining ethical parameters and developing policies. This book details many of those efforts, and offers rational, constructive approaches to laying an ethical foundation for neuromarketing efforts.
Herausgeber


Thomas, Andrew R.

Andrew R. Thomas is Associate Professor of Marketing and International Business at the University of Akron; and, the bestselling author of 21 books. His most recent works include The Customer Trap : How to Avoid the Biggest Mistake in Business and Global Supply Chain Security. His book The Distribution Trap : Keeping Your Innovations from Becoming Commodities was awarded the Berry-American Marketing Association Prize for the Best Marketing Book of 2010. Direct Marketing in Action was a finalist for the same award in 2008. Andrew has traveled to and developed sales and distribution channels in 120 countries on all seven continents.

Nicolae Alexandru Pop currently serves as Professor for the Marketing Department of the Bucharest University of Economic Studies. He is also a specialist in relationship marketing, international marketing and neuromarketing. He is also Professor at the University of Applied Sciences Bochum, at Babes-Bolyai University Cluj-Napoca, at Politehnica University of Bucharest, visiting professor la HEC Montreal, TU Darmstadt, ISCAE Casablanca, Goethe University Frankfurt Main and CNAM Paris. Dr. Pop is also Doctor honoris causa of the University of Oradea.

Ana Maria Iorga is a neuromarketing expert that has a passion for bringing science to marketing. She is holds a double MBA degree in Marketing and Finance from the University of Ottawa and is currently a PhD student in neuromarketing at the Bucharest Academy of Economic Studies. She has over 10 years of experience as an advertising professional and entrepreneur, leading a full-service advertising agency. In 2012, she founded Buyer Brain, a consumer neuroscience research lab.


Cristian Ducu holds a PhD in Moral Philosophy from the University of Bucharest and he is the General Manager of the Centre for Advanced Research in Management and Applied Ethics, an independent research and consulting NGO. In the last 13 years, he specialized in Applied Ethics (mostly, Business Ethics, Communication Ethics, Bioethics, and Ethics in New and Emerging Technologies) and taught various classes in these fields at the University of Bucharest and National University of Political Studies and Public Administration.







1. Introduction.- 2. Neuromarketing: Understanding the Application of Neuroscientific Methods within Marketing Research.- 3. Topoi in Neuromarketing Ethics.- 4. A Guideline for Ethical Aspects in Conducting Neuromarketing Studies.- 5. Ethical and Legal Considerations in Research Subject and Data Protection.- 6. Transparency and Reliability in Neuromarketing Research.- 7. Implicit Measures of Attitudes in Market Research.- 8. Ethical Considerations regarding Stakeholders in Neuromarketing Research.- 9. The Responsibility of Neuromarketing Practitioners in Conducting Research for Nefarious Messaging.- 10. The Limits and the Ethics of Consumer Profiling.- 11. Ethical Dilemmas of Future Technologies.- 12. The Ethics of Neuromarketing in Sports.
versandkostenfreie Lieferung
---
149,79 €

(inkl. MwSt.)
sofort versandfertig, Lieferfrist: 1-3 Werktage
---
Webcode: sack.de/0aiir
Bitte ändern Sie das Passwort