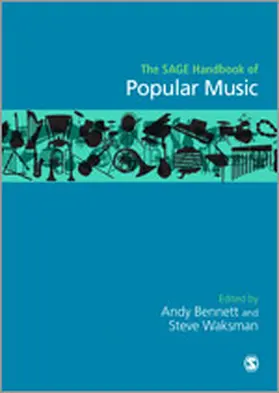 Bennett / Waksman
The Sage Handbook of Popular Music
---
Buch, Englisch,
664 Seiten, Gebunden, Format (B × H): 178 mm x 249 mm, Gewicht: 1361 g

1. Auflage 2015, 664 Seiten, Gebunden, Format (B × H): 178 mm x 249 mm, Gewicht: 1361 g
ISBN: 978-1-4462-1085-7
Verlag: SAGE PUBN

Seite exportieren
---
(inkl. MwSt.)
versandkostenfreie Lieferung
Lieferfrist: bis zu 10 Tage
---
---
---
---
---
---
"The SAGE Handbook of Popular Music is a comprehensive, smartly-conceived volume that can take its place as the new standard reference in popular music. The editors have shown great care in covering classic debates while moving the field into new, exciting areas of scholarship. International in its focus and pleasantly wide-ranging across historical periods, the Handbook is accessible to students but full of material of interest to those teaching and researching in the field."

- Will Straw, McGill University

"Celebrating the maturation of popular music studies and recognizing the immense changes that have recently taken place in the conditions of popular music production, The SAGE Handbook of Popular Music features contributions from many of the leading scholars in the field. Every chapter is well defined and to the point, with bibliographies that capture the history of the field. Authoritative, expertly organized and absolutely up-to-date, this collection will instantly become the backbone of teaching and research across the Anglophone world and is certain to be cited for years to come."

- Barry Shank, author of 'The Political Force of Musical Beauty' (2014)

The SAGE Handbook of Popular Music provides a highly comprehensive and accessible summary of the key aspects of popular music studies. The text is divided into 9 sections:

- Theory and Method

- The Business of Popular Music

- Popular Music History

- The Global and the Local

- The Star System

- Body and Identity

- Media

- Technology

- Digital Economies

Each section has been chosen to reflect both established aspects of popular music studies as well as more recently emerging sub-fields. The handbook constitutes a timely and important contribution to popular music studies during a significant period of theoretical and empirical growth and innovation in the field.

This is a benchmark work which will be essential reading for educators and students in popular music studies, musicology, cultural studies, media studies and cultural sociology.
Herausgeber


Bennett, Andy
Andy Bennett is Professor of Cultural Sociology in the School of Humanities, Languages and Social Science at Griffith University. He has written and edited over books including Popular Music and Youth Culture, Music, Style and Aging and Music Scenes (co-edited with Richard A. Peterson). He is a faculty fellow of the Yale Centre for Cultural Sociology, an international research fellow of the Finnish Youth Research Network, a founding member of the Consortium for Youth, Generations and Culture, and a founding member of the Regional Music Research Group.

Waksman, Steve
Steve Waksman is Professor of Music and American Studies at Smith College, Massachusetts, USA. His works include the books Instruments of Desire: The Electric Guitar and the Shaping of Musical Experience (Harvard University Press, 1999), and This Ain't the Summer of Love: Conflict and Crossover in Heavy Metal and Punk (University of California Press, 2009), the latter of which was awarded the 2010 Woody Guthrie Award for best scholarly book on popular music by the US chapter of the International Association for the Study of Popular Music. With Reebee Garofalo he co-authored the sixth edition of Rockin' Out: Popular Music in the U.S.A. (Pearson, 2013). His essays have appeared in Guitar Cultures, The Cambridge Companion to the Guitar, Listen Again: A Momentary History of Pop, and Metal Rules the Globe: Heavy Metal Music Around the World. Currently he is researching a book on the cultural history of live music and performance in the US, tentatively titled Live Music in America: A History, 1850–2000.


Introduction - Andy Bennett and Steve Waksman
SECTION 1: Theory and Method - Introduction by Andy Bennett
The Many Worlds of Popular Music: Ethnomusicological - Kevin Dawe
Notes on Sociological Theory and Popular Music Studies - Motti Regev
Waiting for the Great Leap Forwards: Mixing Pop, Politics - Gilbert B. Rodman
(Re)Generations of Popular Musicology - Serge Lacasse
Archival Research and the Expansion of Popular Music - Christine Feldman-Barratt
SECTION 2: The Business of Popular Music - Introduction by Steve Waksman
Power, Production and the Pop Process - Reebee Garofalo
Intermediaries and Intermediation - Devon Powers
Popular Musical Labor in North America - Matt Stahl
Music in Advertising in the U.S.: History and Issues - Timothy D. Taylor
SECTION 3: Popular Music History - Introduction by Steve Waksman
Grinding out Hits at the Song Factory - Keir Keightley
Popular Music Genres: Aesthetics, Commerce and Identity - David Brackett
Live Music History - Matt Brennan
SECTION 4: The Global and the Local - Introduction by Andy Bennett
Observations on African, African-American, Middle Eastern - Tony Mitchell
Electronic Dance Music Cultures, Ritualization and the Case - Graham St. John
"Everything Louder than Everyone Else': The Origins and Persistence of Heavy Metal and Its Global Cultural Impact - Andy Brown
Punk Rock Globalization - Ross Haenfler
SECTION 5: The Star System - Introduction by Steve Waksman
Rock Stars as Icons - David Shumway
Everybody's in Show Biz: Performing Star Identity in Popular Music - Philip Auslander
Midnight Ramblers and Material Girls: Gender and Stardom in Rock and Pop - Jacqueline Warwick
Dark Cosmos: Making Race, Shaping Stardom - C. Riley Snorton
SECTION 6: Body and Identity - Introduction by Andy Bennett
Blurred lines, gender and Popular Music - Sheila Whiteley
Popular Music, Race and Identity - Jon Stratton
Dancing the Popular: The Expressive Interface of Bodies, Sound and Motion - Sherril Dodds
Shaping the Past of Popular music: Memory, Forgetting and Documenting - Catherine Strong
SECTION 7: Media - Introduction by Andy Bennett
In Print and On Screen: The Changing Character of Popular Music Journalism - Simon Warner
Sight and Sound in Concert? The Interrelationship Between Music and Television - Tim Wall and Paul Long
Viewing with Your Ears, Listening With Your Eyes: Synching Popular Music and Cinema - Scott Henderson
Beyond Napster: Popular Music and the 'Normal' Internet - Nick Prior
SECTION 8: Technology - Introduction by Steve Waksman
Phonography and the 'Recording' in Popular Music - Patrick Feaster
Ghosts of Electricity: Amplification - Peter Doyle
Ubiquitous Musics: Technology, Listening, and Subjectivity - Anahid Kassabian
SECTION 9: Digital Economies - Introduction by Steve Waksman
Modes of Production: The Value of Modal Analysis for Popular Music Studies - Tim Anderson
Music, Copies and Essences - Joanna Demers
Authorship, Ownership, and Musical Appropriation - Kembrew McLeod
Music Cartels and the Dematerialization of Power - Aram Sinnreich
versandkostenfreie Lieferung
---
155,50 €

(inkl. MwSt.)
Lieferfrist: bis zu 10 Tage
Aufgrund der Corona-Krise kann es in Einzelfällen zu deutlich längeren Lieferzeiten kommen.
---
Webcode: sack.de/vcsb5
Bitte ändern Sie das Passwort