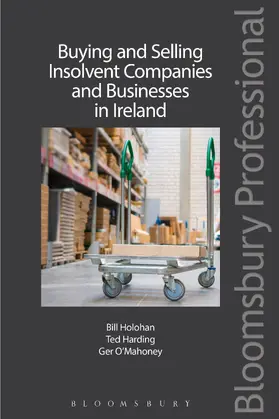 Holohan / O'Mahoney / Harding
Buying and Selling Insolvent Companies and Businesses in Ireland
---
Buch, Englisch,
536 Seiten, Kartoniert, Format (B × H): 156 mm x 234 mm
1. Auflage 2013, 536 Seiten, Kartoniert, Format (B × H): 156 mm x 234 mm
ISBN: 978-1-84766-994-0
Verlag: Bloomsbury
Seite exportieren
---
---
---
---
---
---
Buying and Selling Insolvent Companies and Businesses is a brand new title focusing on all aspects of the purchase and sale of an insolvent company or business, practical, legal and financial.

Designed for the lay reader, as well as the practitioner, it provides a clear insight into issues that can arise when a target business is insolvent and how to deal with them.

This new title brings the specific Irish legal and commercial aspects of the potential transaction into focus. It also informs the reader of the more unusual matters a practitioner may encounter. Issues such as hive-down of a section of the business; creditors' claims; employees; pensions; tax; goodwill; carry-over of business name; and stakeholder roles are all examined.

Addressing the legal and commercial aspects of the potential transaction particular to Ireland, Buying and Selling Insolvent Companies and Businesses includes:

A review of the implications of different forms of insolvency, personal and corporate;
Different structures for the sale transaction;
Acquisition of assets v shares;
Pensions;
Retention of target customers and suppliers.

Fully comprehensive, it also covers the not so-common issues of hive-down of creditors' claims; goodwill; carry-over of business name; and stakeholder roles.

Buying and Selling Insolvent Companies and Businesses is fully up-to-date with respect to all relevant legislation, including the latest Companies Acts and is essential reading for insolvency professionals, lawyers, accountants, bankers or financial advisors, pre and post-graduate students, M&A and general practice accountants, business advisors, directors and investors.

A full set of precedents will guide you through each transaction and will include the following:

Business Transfer Agreement;
Guaranteed liabilities;
Novation of Contract;
Intellectual Property Rights Assignment;
Debenture;
Guarantee and Indemnity.
Autoren


Holohan, Bill
Bill Holohan, B.C.L., LL.B., F.C.I.L.S., F.C.I.Arb., A.M. (CEDR), is the Senior Partner of Holohan Solicitors, (Cork and Dublin) and uniquely in Ireland, is qualified as a Solicitor, a Commissioner for Oaths, a Notary Public, an Arbitrator, a CEDR Accredited Mediator, an Irish Trade Mark Agent, & EU Community Trade Mark Practitioner. He is a director of 16 limited liability companies, as well as being a shareholder, Director and Company Secretary of the Aura Leisure Group of companies.

He is co-author of a number of books on "Bankruptcy Law and Practice", "Leasing", "International Civil Procedures", "Insolvency Law in Ireland", and "Rescue of Companies" and has acted as legal adviser to the Office of the Official Assignee in Bankruptcy, for over 20 years as well as acting for liquidators, examiners, receivers, creditors, debtors, bankers and financiers.

He is a Founder Member & Committee Member of the Irish Society of Insolvency Practitioners, and Consultant / Internal Examiner on Insolvency to the Law School of the Law Society of Ireland as well as being the Legal Advisor to the Irish Franchise Association, a Committee Member of the Chartered Institute of Arbitrators (Irish Branch), an Executive Committee Member of the Irish Maritime Law Association, and a Titulary Member of the Comité Maritime International. Holohan Solicitors were awarded the title of "Acquisition International Magazine Winner: Irish Insolvency Law Firm of the Year 2012."

O'Mahoney, Ger
Ger O'Mahoney is a partner in PwC with 26 years' experience in public commercial and business advisory practice and leads their regional advisory practice. He is also a past President of the Cork Chamber of Commerce where he held that position for two years. As a leading commercial and financial adviser, he has a unique perspective to offer in relation to the issue of restructuring, turnaround and insolvency, drawing on his accounting and financial adviser background as well as his unique insight as a Past President of the Chamber of Commerce.

Harding, Ted
Ted Harding BA (Mod.) (Dublin); LL.M. (UCD); C.Dip. Accounting & Finance (ACCA); Dip. L.S.; Dip. Arb.; MCI Arb. is a practising barrister. He has previously been the Editor of The Sunday Business Post. He is a member of the Irish Society of Insolvency Practitioners and lectures on a regular basis on the subject of insolvency. He has acted in a number of prominent insolvency and corporate restructuring cases in recent years.


Chapter 1: Introduction;
Chapter 2: Early Warning Signs;
Chapter 3: Informal Insolvency Arrangements;
Chapter 4: Practical Measures to Counter or Prepare for Insolvency Sales;
Chapter 5: Intellectual Property and Goodwill;
Chapter 6: Data Protection Act Issues;
Chapter 7: Raising Funds;
Chapter 8: Due Diligence;
Chapter 9: Non-corporate Businesses;
Chapter 10: Sales in Corporate Insolvencies;
Chapter 11: Secured and Preferential Creditors;
Chapter 12: Disclaiming Onerous Property;
Chapter 13: The Impact of Insolvency on Employment Contracts;
Chapter 14: Redundancy;
Chapter 15: Employee Claims;
Chapter 16: Employees (Employers' Insolvency) Act 1984;
Chapter 17: Transfer of Undertakings;
Chapter 18: Pension Schemes;
Chapter 19: Insolvency of Pension Schemes;
Chapter 20: Taxation.