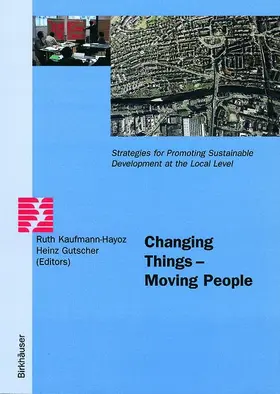 Kaufmann-Hayoz / Gutscher
Changing Things - Moving People
Strategies for Promoting Sustainable Development at the Local Level
2001
ISBN: 978-3-7643-6252-2
Verlag: Springer
Seite exportieren
---
Buch, Englisch,
364 Seiten, Kartoniert, Paperback, Format (B × H): 178 mm x 254 mm, Gewicht: 633 g
Strategies for Promoting Sustainable Development at the Local Level
2001, 364 Seiten, Kartoniert, Paperback, Format (B × H): 178 mm x 254 mm, Gewicht: 633 g
ISBN: 978-3-7643-6252-2
Verlag: Springer
Seite exportieren
---
(inkl. MwSt.)
versandkostenfreie Lieferung
Lieferfrist: bis zu 10 Tage
---
---
---
---
---
---
This book results from a pioneering effort to organize a productive interdisciplinary research program on sustainable development policy in a small country not previously recognized as a world leader in environmental social science. The results are very promising, considering the short time frame and the high barriers to success for such an enterprise - differences in concepts and terminology, disciplinary myopia, and the inherent difficulty of the problem. In the USA, where I work, these barriers continue to pose major challenges after some 30 years of effort. Switzerland has made noteworthy progress in only five. I hope this book represents the beginning of a long term effort at problem-oriented interdisciplinary collaboration among Swiss researchers and prac titioners. The Swiss group has succeeded in developing a unifying framework that makes a major contri bution to environmental policy analysis. The framework broadens policy thinking by giving se rious treatment to underutilized strategies that rely on communication and informal influence as well as to well-studied ones that rely on technological change, regulation, and economic forces. This broad typology makes it easier for an analyst to escape the tendency to presume that the po licy instrument currently in fashion, whether it be market-based instruments, voluntary measures, or whatever, is the right strategy for all problems. It also encourages discipline-based analysts to consider how their favored strategies might be combined with other strategies less familiar to them, and thus to craft strategies that can take advantage of the strengths of various policy instruments.
Herausgeber


Foreword, by P.C. Stern.- Reader's Guide and Acknowledgements.- Transformation toward Sustainability: An Interdisciplinary, Actor-Oriented Perspective.- Switzerland's Environmental and Sustainability Policies.- Theoretical Framework.- Atypology of Tools for Building Sustainability Strategies.- Overview of the typology.- Detailed description of the instruments.- Comparison and preliminary evaluation of the instrument types.- Relationships to other typologies and classifications.- Psycolocical Principles of Inducing Behaviour Change.- Empirical Studies on Selected Istruments and Instrument COndition.- Between Efficiency and Sufficiency. The Optimal Combination of Policy Instruments in the Mobility Sector towards Sustainable Development.- Voluntary COllective Action in Neighborhood Slow-Down - Using Communication and Diffusion Instruments.- Taxation of Residential Energy Use.- The Acceptance of Instruments among Energy Policy Key Players.- Solar and Alternative Power Supply: An Instrument towards Ecologically Sound Power Consumption?.- Strategic Networking and Implementation of Communication and Diffusion Instruments to Develop Local Energy Policies.- Economic Instruments for Wastewater Disposal.- A lawyer's Comment on Maller and Kramer.- Mobilising Resources for More Sustainable Lifestyles: Views of Households and Local Authorities.- A lawyer's Comment on Bruppacher and Utli-Beer.- Possibilities and Limits of Environmentally Responsible Action as Perceived by Participants in the Household EcoTeam Programme.- Conclusions.- Suggestions for Designing Policy Strategies for Sustainable Development.- Inter and Transdisciplinary Processes - Experience and Lessons Learnt.- List of Authors.- List of Projects.
versandkostenfreie Lieferung
---
74,89 €

(inkl. MwSt.)
Lieferfrist: bis zu 10 Tage
---
Webcode: sack.de/077k1
Bitte ändern Sie das Passwort