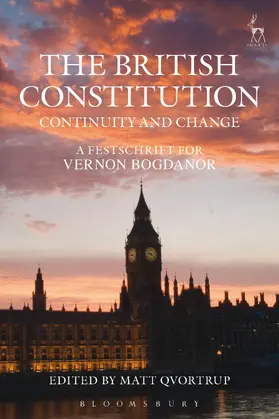 Qvortrup
The British Constitution: Continuity and Change
A Festschrift for Vernon Bogdanor
New as Paperback
ISBN: 978-1-84946-988-3
Verlag: Hart Publishing
Seite exportieren
---
Buch, Englisch,
216 Seiten, Kartoniert, Format (B × H): 156 mm x 234 mm, Gewicht: 313 g
A Festschrift for Vernon Bogdanor
New as Paperback, 216 Seiten, Kartoniert, Format (B × H): 156 mm x 234 mm, Gewicht: 313 g
ISBN: 978-1-84946-988-3
Verlag: Hart Publishing
Seite exportieren
---
---
---
---
---
---
Vernon Bogdanor once told the Guardian that he made 'a living of something that doesn't exist'. He also quipped that the British Constitution can be summed up in eight words: 'Whatever the Queen in Parliament decides is law'. That may still be the case, yet in many ways the once elusive British Constitution has now become much more grounded, much more tangible and much more based on written sources than was previously the case. It now exists in a way in which it previously did not.
However, though the changes may seem revolutionary, much of the underlying structure remains unchanged; there are limits to the changes. Where does all this leave the Constitution? Here constitutional experts, political scientists and legal practitioners present up-to-date and in-depth commentaries on their respective areas of expertise. While also a Festschrift in honour of Vernon Bogdanor, this book is above all a comprehensive compendium on the present state of the British Constitution.

'The highly distinguished team of scholars assembled by Matt Qvortrup has produced a deeply thought-provoking collection on the profound constitutional changes that have occurred in the UK over the last twenty years. A book worthy of reaching a very wide readership'.
Roger Scully, Professor of Political Science, Cardiff University

'Vernon Bogdanor understands like few others the connections between history, politics and institutions - and that is what makes him such an authority on the British system of government.'
The Rt Hon David Cameron MP, Prime Minister

'. a must read [which] deserves a place on the bookshelf of any novice or experienced constitutional explorer'.
Dr Louise Thompson, Democratic Audit

'If you have a serious interest in the recent development of the constitution, and want an understanding of the way Britain is governed which doesn't start and end with Dicey, this book will reward your curiosity'.
David Green, Progress

'A good book'
Philip Murray, Cambridge Law Journal

'L'intitulé des Mélanges Bogdanor condense, avec une simplicité magistrale, les caractéristiques essentielles de la construction britannique'.
Iris Nguyen-Duy, Revue Francaise de droit constitutionnel

A highly valuable and highly readable contribution to the scholarly debate about the UK constitution'.
Peter Munce, Political Studies Review
Herausgeber


Qvortrup, Matt
Matt Qvortrup is Professor of Political Science at Coventry University.


Author Biographies
Introduction: The British Constitution - Continuity and Change
Matt Qvortrup
1 The Changing Constitution in Context
David Butler
2 Constitutional Reform Since 1997: The Historians' Perspective
Mike Finn and Anthony Seldon
3 The Constitution and the Public - How Voters Forgot the Constitution
Peter Riddell
4 'Let Me Take You to a Foreign Land': The Political and the Legal Constitution
Matt Qvortrup
5 The Politics-Free Dimension to the UK Constitution
Dawn Oliver
6 Constitutional Conventions
David Feldman
7 Continuity and Change in Constitutional Conventions
Joseph Jaconelli
8 'The Three Hundred and Seven Year Itch': Scotland and the 2014 Independence Referendum
Stephen Tierney
9 Constitutional Change and Parliamentary Sovereignty - the Impossible Dialectic
Richard Gordon QC
10 Queen Elizabeth II and the Evolution of the Monarchy
Robert Blackburn
11 Constitutional Justice and Constitutional Politics in France
Denis Baranger
Epilogue