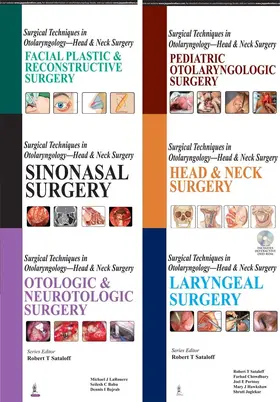 Sataloff
Surgical Techniques in Otolaryngology - Six Volume Set
Erscheinungsjahr 2015
ISBN: 978-93-86150-62-2
Verlag: Jaypee Brothers Medical Publishers
Seite exportieren
---
Buch, Englisch,
1504 Seiten, Gebunden, Format (B × H): 216 mm x 279 mm, Gewicht: 6230 g

Erscheinungsjahr 2015, 1504 Seiten, Gebunden, Format (B × H): 216 mm x 279 mm, Gewicht: 6230 g
ISBN: 978-93-86150-62-2
Verlag: Jaypee Brothers Medical Publishers

Seite exportieren
---
(inkl. MwSt.)
versandkostenfreie Lieferung
Lieferfrist: bis zu 10 Tage
---
---
---
---
---
---
Six volume set which  includes  Laryngeal Surgery, Atlases of Otologic and Neurotological Surgery, Rhinologic and Sinus Surgery, Facial Plastic and Reconstructive Surgery, Pediatric Otolaryngologic Surgery and Head and Neck Surgery. The authors of each volume have included not only background information and step-by-step details of surgical techniques, but also "pearls" gleaned through their vast experience.
Autoren


Sataloff, Robert T
Robert T Sataloff MD DMA FACS (Series Editor)

Professor and Chairman, Department of Otolaryngology—Head and Neck Surgery, Senior Associate Dean for Clinical Academic Specialties, Drexel University College of Medicine, Philadelphia, Pennsylvania, USA


Surgical Techniques in Otolaryngology-Head and Neck Surgery: Otologic and Neurotologic Surgery

1. General Considerations in Otologic and Neurotologic Surgery

2. Eustachian Tube Surgery

3. Surgery of the Ear Canal

4. Otosclerosis and Stapedectomy

5. Stapes Mobilization

6. Tympanoplasty and Ossiculoplasty

7. Mastoidectomy

8. Surgery for Temporal Bone Cancer

9. Treatment of Labyrinthine Disorders

10. Cochlear Implantation

11. Surgery for Neoplasms of the Posterior Fossa and Skull Base

12. Drainage Procedures of the Petrous Apex

13. Facial Nerve Surgery

14. Encephaloceles and Related CSF Leaks

15. Endoscopic Neurotologic Surgery

16. Implantable Hearing Appliances

17. Stereotactic Radiosurgery for Vestibular Schwannomas

Index

Surgical Techniques in Otolaryngology-Head and Neck Surgery Sinonasal Surgery

Section 1: Basic Principles

1. The History and Evolution of Sinus Surgery

2. Physiology of the Nose and Paranasal Sinuses

3. Anatomy and Interpretation of Nasal and Sinus Radiology

4. Patient Selection and Evaluation

5. Nasal Endoscopy

6. Anesthesia for Endoscopic Surgery

7. Endoscopic Instrumentation and Image Guidance

8. Optimizing Postoperative Care

Section 2: Management of Inflammatory Sinus Disease

9. Basic Functional Endoscopic Sinus Surgery

10. Revision Sinus Surgery

11. Balloon Dilation of the Sinuses

12. Extended Frontal Techniques

13. Endoscopic Septoplasty

14. Surgical Management of the Nasal Turbinates

Section 3: Adjunctive Surgical Procedures

15. Endoscopic Dacryocystorhinostomy

16. Endoscopic Orbital Surgery

17. Endoscopic Medial Maxillectomy

18. Endoscopic Control of Epistaxis

Section 4: Management of Nasal Tumors

19. Surgical Care for Sinus and Nasal Papillomas

20. Benign Osseous Tumors of the Nose and Sinuses

21. Endoscopic Management of Paranasal Sinus Malignancies

Section 5: Endoscopic Skull Base Surgery

22. Advanced Endoscopic Skull Base Anatomy

23. Management of CSF Rhinorrhea

24. Sellar and Parasellar Approaches

25. Endoscopic Endonasal Anterior Cranial Fossa Approaches

26. Endoscopic Clival Approaches

27. Endoscopic Transodontoid Approach

28. Endoscopic Approaches to the Pterygopalatine and Infratemporal Fossa

29. Endoscopic Nasopharyngectomy

30. Skull Base Reconstruction

Index

Surgical Techniques in Otolaryngology-Head and Neck Surgery: Facial Plastic and Reconstructive Surgery

1. Introduction to Aesthetic Facial Plastic Surgery

2. Aesthetic Facial Analysis

3. Photography in Facial Plastic Surgery

4. Minimally Invasive Procedures in Facial Plastic Surgery

5. Face Lift and Neck Lift

6. Blepharoplasty

7. Brow Lift

8. Midface Lift

9. Rhinoplasty

10. Cervical Liposuction

11. Buccal Fat Pad

12. Cheek and Chin Implants

13. Otoplasty

14. Hair Transplantation

15. Introduction to Reconstructive Facial Plastic Surgery

16. Healing, Soft Tissue Trauma and Wound Care

17. Soft Tissue Reconstruction

18. Scar Revision

19. Reconstruction of Facial Skin Defects

20. Myocutaneous and Microvascular Flaps

21. Nasal, Orbital, and Frontal Sinus Fractures

22. Mandibular Fractures

23. Maxillary and Zygomatic Fractures

24. Surgical Management of Facial Paralysis

25. Microtia Reconstruction

Index

Surgical Techniques in Otolaryngology-Head & Neck Surgery: Head & Neck Surgery

Section 1: Sinonasal Cancer

1. Medial Maxillectomy

2. Endoscopic Medial Maxillectomy

3. Maxillectomy

4. Anterior Craniofacial Resection

5. Endoscopic Anterior Skull Base Resection and Endoscopic Repair of Skull Base Defects

Section 2: Oral Cavity and Oropharynx

6. Surgical Management of Lip Cancer

7. Floor of Mouth Resection

8. Surgical Management of Oral Tongue Cancer

9. Composite Resection

10. Mandibulotomy

11. Segmental and Marginal Mandibulectomy

Section 3: Surgery of the Larynx and Hypopharynx

12. Surgery for Larynx Cancer

13. Surgery for Hypopharyngeal Cancer

14. Microlaryngoscopic Laser Excision of Glottic Malignancies

15. Transoral Robotic Surgery of the Larynx

Section 4: Neck Dissections

16. Radical Neck Dissection

17. Modified Radical Neck Dissection

18. Selective Neck Dissection

Section 5: Thyroid

19. Thyroidectomy

20. Parathyroid Surgery

Section 6: Salivary and Parapharyngeal Space Tumors

21. Parotidectomy

22. Submandibular Gland Excision

23. Tumors of the Parapharyngeal Space

24. Surgery for Carotid Body Paraganglioma

Section 7: Surgery for Skin Cancer

25. Surgical Management of Nonmelanoma Cutaneous Malignancies of the Head and Neck

26. Surgical Management of Cutaneous Melanoma of the Head and Neck

Index

Surgical Techniques in Otolaryngology-Head and Neck Surgery: Laryngeal Surgery

Section 1: Basic Principles and Procedures

1. Introduction: The History, Evolution and Development of Phonomicrosurgery

2. Patient Selection

3. Anatomy and Physiology of the Voice: A Brief Overview

4. Preoperative Voice Evaluation and Care

5. Indirect Laryngoscopy

6. Direct Laryngoscopy

7. Anesthesia

8. Instrumentation

9. Submucosal Infusion and Laryngeal Microsurgery

10.Laryngeal Laser Surgery

11.Voice Cosmesis: The Voice Lift

12.Postoperative Voice Care

Section 2: Benign Structural Lesions

13. Vocal Fold Cysts

14. Vocal Fold Nodules

15. Vocal Fold Polyps

16. Varicosities, Ectatic Vessels and Vocal Fold Hemorrhage

17. Reinke's Edema

18. Granulomas and Vocal Process Ulcers

19. Papilloma

20. Supraglottoplasty

21. Vocal Fold Scar

22. Sulcus Vocalis

23. Laryngeal Webs

24. Posterior Glottic Stenosis

25. Subglottic Stenosis

26. Bowed Vocal Folds and Presbyphonia

Section 3: Premalignant and Malignant Lesions of the Larynx

27. Premalignant Lesions of the Larynx

28. Laryngeal Cancer

Section 4: Neurogenic Voice Disorders

29. Vocal Fold Paresis/Paralysis

30. Thyroplasty

31. Arytenoid Cartilage Adduction/Rotation, Cricothyroid Subluxation Arytenoidopexy and Arytenoidectomy

32. Nerve Muscle Pedicle Surgery

33. Other Techniques for Bilateral Vocal Fold Paralysis

34. Thyroarytenoid Neurectomy

Section 5: Laryngeal Trauma

35.Laryngotracheal Trauma

36. Vocal Process Avulsion

37. Cricoarytenoid and Cricothyroid Joint Fixation and Injury: Evaluation and Treatment

Index

Surgical Techniques in Otolaryngology-Head & Neck Surgery: Pediatric Otolaryngologic Surgery

Section 1: Otology

1. Tympanostomy and Tube Placement

2. Repair of the Perforated Tympanic Membrane

3. Repair of Ossicular Chain Abnormalities

4. Surgical Treatment of Chronic Otitis Media

5. Cochlear Implantation

Section 2: Congenital

6. Cleft Lip and Palate

7. Congenital Neck Masses

8. Congenital Midline Nasal Masses

Section 3: Sinonasal

9. Pediatric Chronic Rhinosinusitis

Section 4: Tonsillectomy and Adenoidectomy

10. Extracapsular Tonsillectomy

11. Intracapsular Tonsillectomy

12. Adenoidectomy

Section 5: Surgery of the Upper Aerodigestive Tract

13. Surgical Management of Laryngomalacia

14. Endoscopic Management of Subglottic Lesions

15. Open Laryngotracheal Procedures

16. Tracheotomy

17. Deep Neck Infections

18. Benign and Malignant Tumors of the Head and Neck

Index
versandkostenfreie Lieferung
---
819,50 €

(inkl. MwSt.)
Lieferfrist: bis zu 10 Tage
Aufgrund der Corona-Krise kann es in Einzelfällen zu deutlich längeren Lieferzeiten kommen.
---
Webcode: sack.de/9fvii
Bitte ändern Sie das Passwort