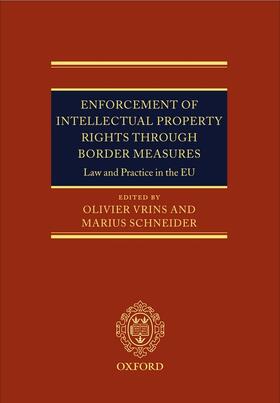 Vrins / Schneider
Enforcement of Intellectual Property Rights through Border Measures
Law and Practice in the EU
Erscheinungsjahr 2006
ISBN: 978-0-19-928879-3
Verlag: Oxford University Press
Seite exportieren
---
Buch, Englisch,
1414 Seiten, Gebunden, Format (B × H): 156 mm x 234 mm
Law and Practice in the EU
Erscheinungsjahr 2006, 1414 Seiten, Gebunden, Format (B × H): 156 mm x 234 mm
ISBN: 978-0-19-928879-3
Verlag: Oxford University Press
Seite exportieren
---
(inkl. MwSt.)
versandkostenfreie Lieferung
Lieferfrist: bis zu 10 Tage
---
---
---
---
---
---
practical guide to using border measures against the importation of goods infringing intellectual property rights into the European Union
- The book gives full coverage of EC Regulation 1383/2003 concerning customs action against goods suspected of infringing certain intellectual property rights and 1891/2004 laying down provisions for its implementation
- Written by a specialist practitioner editor and contributor team giving all practical aspects of problems involving multi-state abuses of intellectual property rights (including how to contact customs authorities, useful website addresses, and more)
- Pulls together a substantial amount of key information not always readily available, thereby saving valuable research time
- Reader-friendly layout with consistent design for all of the 25 national reports, facilitating the ability to compare different national approaches and make strategic decisions

This book is a practical guide on anti-counterfeiting and anti-piracy measures at the borders of the enlarged European Community. It deals with all aspects of 'border measures' under Regulation (EC) 1383/2003. As well as providing a thorough description of the implementation of the new regime, the publication also fills in the gaps by including areas of national law, thus providing a coherent overview of the application of the current regime of border measures in place within the European Union.
The main topics addressed are: (i) the general background behind the phenomena of counterfeiting and piracy in Europe (by Prof. Michael Blakeney), (ii) the international legal framework for border measures (Paris Convention, Bern Convention, TRIPS, WIPO Model Provisions, etc.) (by Prof. Daniel Gervais), as well as (EC) Regulation 1383/2003, Implementing Regulation 1891/2004 and the case law of the European Court of Justice (by Mr Schneider and Mr Vrins). (iii) The main part of the book is devoted to national reports on the application of border measures in all 25 Member Countries of the European Community. (iv) The last Chapter of the book highlights the similarities and differences in the approaches adopted by the Member States when faced with infringements of intellectual property rights at the borders, and attempts to emphasize how these are relevant to right-holders when defining their strategies in the fight against such infringements.
This manual is the very first English language publication dealing with the practical application of Regulation 1383/2003 in all 25 Member Countries of the European Community

Contents
- Part I: Introduction
- 1 Michael Blakeney: The Phenomenon of Counterfeiting and Piracy in the European Union: Factual Overview and Legal and Institutional Framework
- Part II: International Background and Legal Framework
- 2 Daniel Gervais: The International Legal Framework on Border Measures in the fight against Counterfeiting and Piracy
- Part III: Community Legal Framework
- 3 Marius Schneider and Olivier Vrins: Regulation (EC) 1383/2003

- Part IV: Border Measures at the National Level
- 4 Christa Heubusch and Helmut Sonn: Austria
- 5 Olivier Vrins and Marius Schneider: Belgium
- 6 Hermione Markides and Alecos Markides: Cyprus
- 7 Petra Korejzová: Czech Republic
- 8 Mads Marstrand-Jorgensen and Bernhard Posner: Denmark
- 9 Raivu Koitel: Estonia
- 10 Bernt Juthström and Johanna Harsu: Finland
- 11 Juliette Biardeaud: France
- 12 Stefanie Körber: Germany
- 13 Dimitra Georganda and Ekaterini Mouzaki: Greece
- 14 László Bérczes: Hungary
- 15 Patrica McGovern and Áine Matthews: Ireland
- 16 Raffaella Barbuto and Raffaella Arista: Italy
- 17 Mara Uzulena and Gatis Merzvinskis: Latvia
- 18 Asta Lukosiute: Lithuania
- 19 Gary Cywie: Luxembourg
- 20 David Tonna and Antoine Camilleri: Malta
- 21 Frits Mutsaerts, Maaike Grondman, Christine Noordzij and Marchien Maks: The Netherlands
- 22 Dorota Rzqzewska and Zofia Senda: Poland
- 23 Nuno Cruz and Gonça
Herausgeber


Vrins, Olivier
Olivier Vrins, Attorney-at-law, Altius law firm, Brussels and Marius Schneider, European trade mark and design attorney, Gevers & Partners, Brussels

Contributors: Raffaella Barbuto, Studio Torta, Italy Laszlo Berczes, SBG&K Patent and Law Offices, Hungary Juliette Biardeaud, Gilbey de Haas, France Michael Blakeney, Queen Mary and Westfield College, University of London, UK Antoine Camilleri, Mamo TCV Advocates, Malta Nuno Cruz, Telepac, Portugal Gary Cywie, Le Goueff Avocats, Luxembourg Ignacio Diez de Rivera Elzaburu, Elzaburu, Spain Bengt Eliasson, Zacco Sweden AB Alison Firth, Newcastle Law School, UK Dimitra Georganda, G.S. Kostakopoulos and Associates, Greece Daniel Gervais, University of Ottawa, Canada Christa Heubusch, Sonn & Partner Patentanwälte, Austria Bernt Juthström, Roschier Holmberg, Finland Heinu Koitel, Koitel Patent & Trademark Agency, Estonia Raivu Koitel, Koitel Patent & Trademark Agency, Estonia Stefanie Körber, Weber und Sauberschwarz, Germany Luis de Larramendi, Elzaburu, Spain Dr. Jan Hák, Slovakia Gregor Macek, Item d.o.o., Slovenia Hermione Markides, Markides, Markides & Co, Cyprus Mads Marstrand-Jorgensen, Norsker & Jacoby, Denmark Patrica McGovern, LK Shields Solicitors, Ireland Gatis Merzvinskis, Petersona Patents, Latvia Gonçalo Moreira Rato, Telepac, Portugal Ekaterini Mouzaki, G.S. Kostakopoulos and Associates, Greece Frits Mutsaerts, Banning Advocaten, The Netherlands Christine Noordzij, Elzas Noordzij, The Netherlands Jeremy Phillips, Slaughter and May, and Queen Mary Intellectual Property Research Institute, University of London, UK Bernhard Posner, Zacco Denmark A/S Dorota Rzazewska, Kulikowska & Kulikowski, Poland Solveiga Savicka, Petersona Patents, Latvia Marius Schneider, Gevers & Partners, Belgium Zofia Senda, Kulikowska & Kulikowski, Poland David Tonna, Mamo TCV Advocates, Malta Mara Uzulena, Petersona Patents, Latvia Olivier Vrins, Altius, Belgium Hans Georg Zeiner, Zeiner & Zeiner, Austria Links to web resources and related information


Intellectual property right-holders such as in-house lawyers, companies, collecting societies, etc, practitioners specialising in intellectual property law (including intellectual property consultants, patent attorneys, and enforcement authorities), academics, reference libraries.
versandkostenfreie Lieferung
---
267,54 €

(inkl. MwSt.)
Lieferfrist: bis zu 10 Tage
Aufgrund der Corona-Krise kann es in Einzelfällen zu deutlich längeren Lieferzeiten kommen.
---
Webcode: sack.de/67cuq
Bitte ändern Sie das Passwort