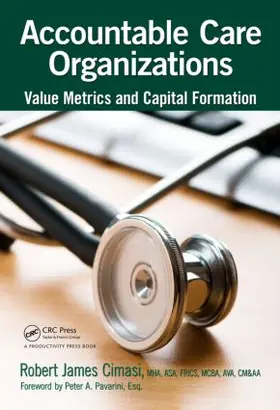 Cimasi
Accountable Care Organizations
Value Metrics and Capital Formation
Neuausgabe 2013
ISBN: 978-1-4665-8183-8
Verlag: PRODUCTIVITY PR INC
Seite exportieren
---
Buch, Englisch,
378 Seiten, Gebunden, Format (B × H): 178 mm x 257 mm, Gewicht: 839 g

Value Metrics and Capital Formation

Neuausgabe 2013, 378 Seiten, Gebunden, Format (B × H): 178 mm x 257 mm, Gewicht: 839 g
ISBN: 978-1-4665-8183-8
Verlag: PRODUCTIVITY PR INC

Seite exportieren
---
(inkl. MwSt.)
versandkostenfreie Lieferung
Lieferfrist: bis zu 10 Tage
---
---
---
---
---
---
An accountable care organization (ACO) is a healthcare organization characterized by a payment and care delivery model that seeks to tie provider reimbursements to quality metrics and reductions in the total cost of care for an assigned group of patients. Accountable Care Organizations: Value Metrics and Capital Formation explores the historical background and evolution of the ACO model as the basis for the development of the value metrics and capital formation analyses that are foundational to assessing the current efficacy and capacity for change.The book examines the four pillars of value in the healthcare industry: regulatory, reimbursement, competition, and technology in addressing the value metrics of ACOs, including requirements for capital formation, financial feasibility, and economic returns. It focuses the discussion of non-monetary value on a review of aspects of population health within the context of such objectives as improved quality outcomes and access to care.

Explains why ACOs might be the cost-containment and quality improvement answer the industry has been looking for
Describes the circumstances and capital structures where ACOs represent a sound investment
Includes a foreword by Peter A. Pavarini, Esq.
The book examines the positive externalities of the ACO model, including results for third parties outside the basic construct of the ACO contracts shared savings payments. It also discusses the potential role and opportunities for consultants in assisting their provider clients in the consideration, development, implementation, and operation of an ACO.
Autoren


Cimasi, Robert James
Robert James Cimasi, MHA, ASA, FRICS, MCBA, AVA, CM&AA, is chief executive officer of Health Capital Consultants (HCC), a nationally recognized healthcare financial and economic consulting firm headquartered in St. Louis, Missouri, since 1993. Cimasi has more than 25 years of experience in serving clients, with a professional focus on the financial and economic aspects of healthcare service sector entities including valuation consulting and capital formation services; healthcare industry transactions including joint ventures, mergers, acquisitions, and divestitures; litigation support and expert testimony; and certificate-of-need and other regulatory and policy planning consulting.Cimasi holds a master's in health administration from the University of Maryland and holds several professional designations: Accredited Senior Appraiser (ASA–American Society of Appraisers), Fellow Royal Intuition of Chartered Surveyors (FRICS–Royal Institute of Chartered Surveyors), Master Certified Business Appraiser (MCBA–Institute of Business Appraisers), Accredited Valuation Analyst (AVA–National Association of Certified Valuators and Analysts), and Certified Merger & Acquisition Advisor (CM&AA–Alliance of Merger & Acquisition Advisors).He has served as an expert witness in numerous court cases and has provided testimony before federal and state legislative committees. He is a nationally known speaker on healthcare industry topics, the author of several books, including The Adviser's Guide to Healthcare (AICPA. 2010) and Healthcare Valuation: The Financial Appraisal of Enterprises, Assets, and Services in the Era of Reform (Wiley, 2005), as well as numerous chapters, published articles, research papers and case studies, and is often quoted by healthcare industry press.In 2006, Cimasi was honored with the prestigious Shannon Pratt Award in Business Valuation conferred by the Institute of Business Appraisers. Cimasi serves on the editorial board of the Business Appraisals Practice of the Institute of Business Appraisers, of which he is a member of the College of Fellows. In 2011, he was named a Fellow of the Royal Institution of Chartered Surveyors (RICS) and serves on the editorial board of the RICS Modus Americas journal. Cimasi is also the current chair of the American Society of Appraisers Healthcare Special Interest Group (ASA HSIG) subcommittee.


Background and the Path to ACOsIntroductionHistory of Accountable Care History of Managed Care ACO: Another Name for Managed Competition The Path to Accountable Care Organizations Setting the Stage for ACOs: An Environment Demanding ChangeChapter SummaryEndnotesFederal ACOsPurpose of Accountable Care OrganizationsOverview of Value-Based PurchasingThe Patient Protection and Affordable Care Act (ACA) and the Medicare Shared Savings Program Overview and Intent of the MSSP Related Affordable Care Act Provisions Center for Medicare and Medicaid Innovation Value-Based Purchasing Demonstrations Medical Home Model Bundling Demonstration ProjectMSSP Proposed Rule Overview of the Main Provisions of the MSSP Proposed Rule Industry Response Significant Changes between the MSSP Proposed and Final RuleMSSP Final Rule Operational Terminology Accountable Care Organization ACO Participant ACO Provider/Supplier ACO Professional Development Eligible Entities Structural Requirements Governance Implementation The ACO Agreement Accountability: The Assignment of Medicare Beneficiaries Operation Quality and Other Reporting Requirements Monitoring and Termination Reimbursement Shared Savings PaymentsSubsequent ACO Models under Development Pioneer ACO Model Advanced Payment ACO Model Initiative Accelerated Development Learning SessionsProposals for State Payors: Medicaid ACOsIndustry Feedback and Agency Response American Hospital Association (AHA) American Medical Group Association (AMGA) American Medical Association (AMA) American Academy of Family Physicians (AAFP) America's Health Insurance Plans (AHIP) Physician Group Practice Demonstration Project Participants Medicare Payment Advisory CommissionChapter SummaryEndnotes

Commercial ACOsWhat Are Commercial ACOs? Distinguishing between Federal ACOs and Commercial ACOs Regulatory Reimbursement Competition TechnologyDevelopment Eligible Entities Structural Requirements Coordination of Care Technology GovernanceImplementation The ACO Agreement AccountabilityOperation Quality and Other Reporting Requirements Monitoring Reimbursement Fee-for-Service Pay-for-Performance Bundled Payment Partial Capitation Full Capitation Global Budget Tiered Payment Models Shared Savings and LossesChapter SummaryEndnotesHypothetical Models for the Development and Operation of ACOsStructural Features Federal ACOs Commercial ACOs Traditional Structure Single Healthcare Organization StructureTransition ChallengesOperational Challenges Federal ACOs Commercial ACOsCompetitive Marketplace Challenges Federal ACOs Commercial ACOsChapter SummaryEndnotesImpact of ACOs on the Healthcare Industry: Addressing Industry ConcernRegulatory Concerns Impact on Providers Antikickback LawsCapital Finance Considerations for the Development and Operation of ACOsBackground History of Healthcare Financing The Financial Crisis: 2007–2009Financial Feasibility Analysis for ACO InvestmentsCase Studies: Real Investments of CapitalThe Investment DecisionValue Metrics Cash Flow Analysis Feasibility Analysis Payback Period and Discounted Payback Period Methods AARR Method Net Present Value Internal Rate of Return Further Feasibility AnalysisChapter SummaryEndnotes
Considerations of Value for the Positive Externalities of ACOsDefining ValueValue to SOCIETY Monetary Value Cost of Healthcare Productivity Measures Nonmonetary ValueThe Role of the Healthcare ConsultantOverviewEconomic and Financial Consulting Services Relevant to ACOs Episodic Services Continuity Services Value Metric Services Financial Feasibility Services Valuation (Financial Appraisal) Services: Establishing Fair Market Value and Commercial ReasonablenessSelecting and Working with Consultants Consultant Skills and the Body of Knowledge Organizational and Strategic Capabilities The Consulting Process Data Gathering & Research The Consulting Analytical Process Technical Tools Reporting of Consulting Engagement DeliverablesChapter SummaryEndnotesConclusionEpilogueBibliographyRegulatoryReimbursementCompetitionTechnologyGlossaryLiterature ReviewIndex
versandkostenfreie Lieferung
---
100,50 €

(inkl. MwSt.)
Lieferfrist: bis zu 10 Tage
Aufgrund der Corona-Krise kann es in Einzelfällen zu deutlich längeren Lieferzeiten kommen.
---
Webcode: sack.de/2i0z5
Bitte ändern Sie das Passwort