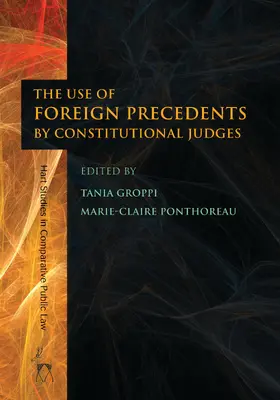 Groppi / Ponthoreau
The Use of Foreign Precedents by Constitutional Judges
---
Buch, Englisch,
470 Seiten, Kartoniert, Format (B × H): 171 mm x 244 mm, Gewicht: 820 g
1. Auflage 2014, 470 Seiten, Kartoniert, Format (B × H): 171 mm x 244 mm, Gewicht: 820 g
ISBN: 978-1-84946-659-2
Verlag: Hart Publishing
Seite exportieren
---
---
---
---
---
---
In 2007 the International Association of Constitutional Law established an Interest Group on 'The Use of Foreign Precedents by Constitutional Judges' to conduct a survey of the use of foreign precedents by Supreme and Constitutional Courts in deciding constitutional cases. Its purpose was to determine - through empirical analysis employing both quantitative and qualitative indicators - the extent to which foreign case law is cited. The survey aimed to test the reliability of studies describing and reporting instances of transjudicial communication between Courts. The research also provides useful insights into the extent to which a progressive constitutional convergence may be taking place between common law and civil law traditions. The present work includes studies by scholars from African, American, Asian, European, Latin American and Oceania countries, representing jurisdictions belonging to both common law and civil law traditions, and countries employing both centralised and decentralised systems of judicial review. The results, published here for the first time, give us the best evidence yet of the existence and limits of a transnational constitutional communication between courts.

The collected data for each jurisdiction makes for engaging reading. It reveals details of the extent of visible (and sometimes implied) comparative activity that each of the courts displays in its jurisprudence. we now have a clearer picture of how some of the most prominent constitutional courts deal (or desist from dealing) with comparable judgments in other countries.
François Venter, International Journal of Constitutional Law, Vol. 12, no 1, January 2014

The volume. represents a refreshing approach to complex questions raised in debates about constitutional borrowing, transjudicial communication, or the migration of constitutional ideas. The Use of Foreign Precedents by Constitutional Judges will be essential reading for scholars seeking to refresh the debates about using foreign law.
Hélène Tyrrell, Public Law, April 2014
Herausgeber


Professor Groppi, Tania
Tania Groppi is Professor of Public Law at the University of Siena.

Professor Ponthoreau, Marie-Claire
Marie-Claire Ponthoreau is Professor of Constitutional Law and Comparative Law at the University of Bordeaux.


Introduction. The Methodology of the Research: How to Assess the Reality of Transjudicial Communication?
Tania Groppi and Marie-Claire Ponthoreau
Part I
1. Reference to Foreign Precedents by the Australian High Court: A Matter of Method
Cheryl Saunders and Adrienne Stone
2. Canada: Protecting Rights in a 'Worldwide Rights Culture'. An Empirical Study of the Use of Foreign Precedents by the Supreme Court of Canada (1982-2010)
Gianluca Gentili
3. India: A 'Critical' Use of Foreign Precedents in Constitutional Adjudication
Valentina Rita Scotti
4. The Supreme Court of Ireland and the Use of Foreign Precedents: The Value of Constitutional History
Cristina Fasone
5. Israel: Creating a Constitution-The Use of Foreign Precedents by the Supreme Court (1994-2010)
Suzie Navot
6. Namibia: The Supreme Court as a Foreign Law Importer
Irene Spigno
7. South Africa: Teaching an 'Old Dog' New Tricks? An Empirical Study
of the Use of Foreign Precedents by the South African Constitutional Court (1995-2010)
Christa Rautenbach
Part II
8. Austria: Non-cosmopolitan, but Europe-friendly-The Constitutional Court's Comparative Approach
Anna Gamper
vi Contents
9. Lifting the Constitutional Curtain? The Use of Foreign Precedent by the German Federal Constitutional Court
Stefan Martini
10. Hungary: Unsystematic and Incoherent Borrowing of Law. The Use of Foreign Judicial Precedents in the Jurisprudence of the Constitutional Court, 1999-2010
Zoltán Szente
11. A Gap between the Apparent and Hidden Attitudes of the Supreme Court of Japan towards Foreign Precedents
Akiko Ejima
12. Mexico: Struggling for an Open View In Constitutional Adjudication
Eduardo Ferrer Mac-Gregor and Rubén Sánchez Gil
13. Romania: Analogical Reasoning as a Dialectical Instrument
Elena Simina Tanasescu and Stefan Deaconu
14. Russia: Foreign Transplants in the Russian Constitution and Invisible Foreign Precedents in Decisions of the Russian Constitutional Court
Sergey Belov
15. Judges as Discursive Agent: The Use of Foreign Precedents by the Constitutional Court of Taiwan
Wen-Chen Chang and Jiunn-Rong Yeh
16. United States of America: First Cautious Attempts of Judicial Use of Foreign Precedents in the Supreme Court's Jurisprudence
Angioletta Sperti
Conclusion. The Use of Foreign Precedents by Constitutional Judges: A Limited Practice, An Uncertain Future
Tania Groppi and Marie-Claire Ponthoreau