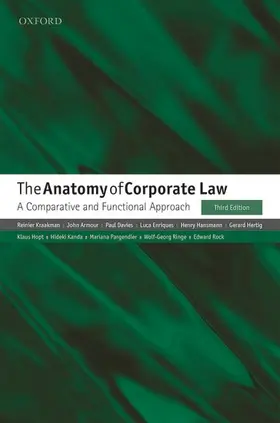 Kraakman / Ringe / Rock
The Anatomy of Corporate Law
A Comparative and Functional Approach
3. Auflage 2017
ISBN: 978-0-19-872431-5
Verlag: Oxford University Press
Seite exportieren
---
Buch, Englisch,
304 Seiten, Kartoniert, Format (B × H): 158 mm x 233 mm, Gewicht: 468 g
A Comparative and Functional Approach
3. Auflage 2017, 304 Seiten, Kartoniert, Format (B × H): 158 mm x 233 mm, Gewicht: 468 g
ISBN: 978-0-19-872431-5
Verlag: Oxford University Press
Seite exportieren
---
(inkl. MwSt.)
versandkostenfreie Lieferung
sofort versandfertig, Lieferfrist: 1-3 Werktage
---
---
---
---
---
This is the long-awaited third edition of this highly regarded comparative overview of corporate law. This edition has been comprehensively revised and updated to reflect the profound changes in corporate law and governance practices that have taken place since the previous edition. These include numerous regulatory changes following the financial crisis of 2007-09 and the changing landscape of governance, especially in the US, with the ever more central role of
institutional investors as (active) owners of corporations. The geographic scope of the coverage has been broadened to include an important emerging economy, Brazil. In addition, the book now incorporates analysis of the burgeoning use of corporate law to protect the interests of "external
constituencies" without any contractual relationship to a company, in an attempt to tackle broader social and economic problems.

The authors start from the premise that corporations (or companies) in all jurisdictions share the same key legal attributes: legal personality, limited liability, delegated management, transferable shares, and investor ownership. Businesses using the corporate form give rise to three basic types of agency problems: those between managers and shareholders as a class; controlling shareholders and minority shareholders; and shareholders as a class and other corporate constituencies, such as
corporate creditors and employees. After identifying the common set of legal strategies used to address these agency problems and discussing their interaction with enforcement institutions, The Anatomy of Corporate Law illustrates how a number of core jurisdictions around the world deploy such strategies.
In so doing, the book highlights the many commonalities across jurisdictions and reflects on the reasons why they may differ on specific issues.

The analysis covers the basic governance structure of the corporation, including the powers of the board of directors and the shareholder meeting, both when management and when a dominant shareholder is in control. It then analyses the role of corporate law in shaping labor relationships, protection of external stakeholders, relationships with creditors, related-party transactions, fundamental corporate actions such as mergers and charter amendments, takeovers, and the regulation of capital
markets.

The Anatomy of Corporate Law has established itself as the leading book in the field of comparative corporate law. Across the world, students and scholars at various stages in their careers, from undergraduate law students to well-established authorities in the field, routinely consult this book as a starting point for their inquiries.
Autoren


Pargendler, Mariana
Reinier Kraakman is the Ezra Ripley Thayer Professor of Law at Harvard Law School and a Fellow of the European Corporate Governance Institute. He has written numerous articles on corporate law and the economic analysis of corporate liability regimes. He teaches courses in corporate law, corporate finances, and seminars on the theory of corporate law and comparative corporate governance.

John Armour is Hogan Lovells Professor of Law and Finance at the University of Oxford and a Fellow of the European Corporate Governance Institute. He was previously a member of the Faculty of Law and the interdisciplinary Centre for Business Research at the University of Cambridge. He has held visiting posts at various institutions including the University of Chicago, Columbia Law School, the University of Frankfurt, the Max Planck Institute for Comparative Private Law, Hamburg, and the
University of Pennsylvania Law School. His main research interests lie in company law, corporate insolvency law, and financial regulation, in which areas he has published widely. He has been involved in policy projects commissioned by the UK's Department of Trade and Industry, Financial Services Authority
and Insolvency Service, the Commonwealth Secretariat, and the World Bank. He currently serves as a member of the European Commission's Informal Company Law Expert Group.


Paul Davies is a Senior Research Fellow in the Centre for Commercial Law at Harris Manchester College, University of Oxford. He was the Allen & Overy Professor of Corporate Law, University of Oxford, between 2009 and 2014. Between 1998 and 2009 he was the Cassel Professor of Commercial Law at the London School of Economics and Political Science. He was a member of the Steering Group for the Company Law Review which preceded the enactment of the Companies Act 2006, and has been involved
recently in policy-related work for the UK Treasury. His most recent works include the 10th edition of Gower and Davies, Principles of Modern Company Law (Sweet & Maxwell, 2016, with Sarah Worthington); and Introduction to Company Law (OUP, 2nd ed., 2010). He is a Fellow of the European Corporate Governance
Institute, a Fellow of the British Academy, and an honorary Queen's Counsel.


Luca Enriques is the Allen & Overy Professor of Corporate Law in the Faculty of Law, University of Oxford, and a European Corporate Governance Institute Research Fellow. He has been Professor of Business Law at the University of Bologna and LUISS-Rome. Between 2007 and 2012, he served as a Commissioner at Consob, the Italian Securities and Exchange Commission. He has been Visiting Professor at various institutions, including Harvard Law School, Instituto de Impresa (Madrid), and IDC
Herzliya. He has published several books and articles on topics relating to corporate law, corporate governance, and financial regulation. He is a coauthor, together with John Armour, Paul Davies, and others, of Principles of Financial Regulation (OUP, 2016).

Henry Hansmann is the Oscar M. Ruebhausen Professor of Law at the Yale Law School. His scholarship has focused principally on the law and economics of organizational ownership and structure, and has dealt with all types of legal entities, both profit-seeking and nonprofit, private and public. He has been Professor or Visiting Professor at Harvard University, New York University, and the University of Pennsylvania Law Schools. Recent publications include Legal Entities as Transferable Bundles of
Contracts (with Kenneth Ayotte), 111 Michigan Law Review 715 (2013), and External and Internal Asset Partitioning: Corporations and Their Subsidiaries (with Richard Squire), in Jeffrey Gordon and Georg Ringe (eds.), The Oxford Handbook of Corporate Law and Governance (OUP, forthcoming). He is a
Fellow of the American Academy of Arts and Sciences and the European Corporate Governance Institute.

Gerard Hertig is Professor of Law at ETH Zurich and a European Corporate Governance Institute research fellow.


versandkostenfreie Lieferung
---
34,00 €

(inkl. MwSt.)
sofort versandfertig, Lieferfrist: 1-3 Werktage
---
Webcode: sack.de/orjh3
Bitte ändern Sie das Passwort