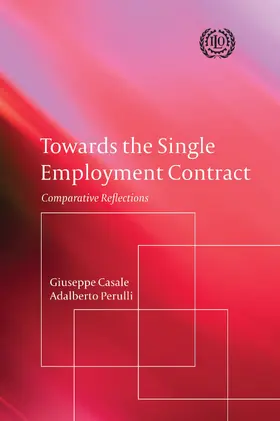 Perulli / Casale
Towards the Single Employment Contract
Comparative Reflections
1. Auflage 2013
ISBN: 978-1-84946-581-6
Verlag: Hart Publishing
Seite exportieren
---
Buch, Englisch,
98 Seiten, Kartoniert, Format (B × H): 156 mm x 234 mm, Gewicht: 193 g
Comparative Reflections
1. Auflage 2013, 98 Seiten, Kartoniert, Format (B × H): 156 mm x 234 mm, Gewicht: 193 g
ISBN: 978-1-84946-581-6
Verlag: Hart Publishing
Seite exportieren
---
---
---
---
---
---
This book examines the concept of the single employment contract, tracing it from its genesis and evaluating its pros and cons in the context of the current labour market problems in selected European countries.

The book adopts a comparative approach to examining the single employment contract, highlighting its virtues and revealing its inherent contradictions. The authors set out the general framework within which the current debate has developed by outlining the origins that gave rise to the proposal of a single employment contract. They then review the debate on labour market segmentation and the flexicurity proposal, and examine the key characteristics of the single employment contract as well as the arguments put forward both for and against it. Case studies show how the idea has been taken up in France, Italy and Spain. The book concludes with a concise review of contractual arrangements in EU labour markets and of possible future projections and developments.

The book is aimed at academics and practitioners interested in labour market and labour legislation reforms.

The book is a co-publication between Hart Publishing and the International Labour Organization.
Autoren


Perulli, Adalberto
Adalberto Perulli is Professor of Labour Law at Cà Foscari University of Venice. He is the Director of the Master's Programme in Labour Law and of the Global Economic and Social Affairs Master's Programme (GESAM) at the University of Venice. He serves on a number of advisory boards of labour law reviews and is the author of many publications.

Casale, Giuseppe
Giuseppe Casale is currently heading the Labour Administration, Labour Inspection and Occupational Safety and Health Branch at the International Labour Office in Geneva. He is a visiting professor in comparative and international labour law at the universities of Bari and Venice, and is the Secretary-General of the International Society for Labour and Social Security Law (ISLSSL). He serves on several editorial boards of labour law reviews, is the author of numerous publications and editor of The Employment Relationship: A Comparative Overview (Hart Publishing and ILO, 2011).