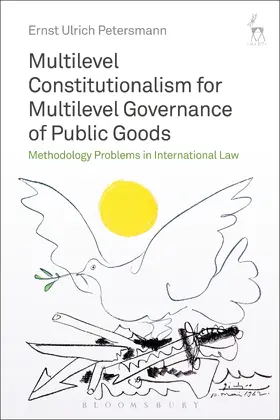 Petersmann
Multilevel Constitutionalism for Multilevel Governance of Public Goods
Methodology Problems in International Law
Erscheinungsjahr 2017
ISBN: 978-1-5099-0912-4
Verlag: Hart Publishing
Seite exportieren
---
Buch, Englisch,
416 Seiten, Gebunden, Hardback, Format (B × H): 161 mm x 241 mm, Gewicht: 780 g
Erhältlich auch als Buch
Methodology Problems in International Law
Erscheinungsjahr 2017, 416 Seiten, Gebunden, Hardback, Format (B × H): 161 mm x 241 mm, Gewicht: 780 g
ISBN: 978-1-5099-0912-4
Verlag: Hart Publishing
Seite exportieren
---
(inkl. MwSt.)
versandkostenfreie Lieferung
Lieferfrist: bis zu 10 Tage
---
---
---
---
---
---
This is the first legal monograph analysing multilevel governance of global 'aggregate public goods' (PGs) from the perspective of democractic, republican and cosmopolitan constitutionalism by using historical, legal, political and economic methods. It explains the need for a 'new philosophy of international law' in order to protect human rights and PGs more effectively and more legitimately. 'Constitutional approaches' are justified by the universal recognition of human rights and by the need to protect 'human rights', 'rule of law', 'democracy' and other 'principles of justice' that are used in national, regional and UN legal systems as indeterminate legal concepts. The study describes and criticizes the legal methodology problems of 'disconnected' governance in UN, GATT and WTO institutions as well as in certain areas of the external relations of the EU (like transatlantic free trade agreements). Based on 40 years of practical experiences of the author in German, European, UN, GATT and WTO governance institutions and of simultaneous academic teaching, this study develops five propositions for constituting, limiting, regulating and justifying multilevel governance for the benefit of citizens and their constitutional rights as 'constituent powers', 'democratic principals' and main 'republican actors', who must hold multilevel governance institutions and their limited 'constituted powers' legally, democratically and judicially more accountable.
Autoren


Petersmann, Ernst Ulrich
Ernst Ulrich Petersmann is emeritus professor and former head of the law department of the European University Institute at Florence (Italy). He combined 40 years of legal practice in German, European, UN, GATT and WTO governance institutions with teaching international and European law at numerous universities in Germany, Switzerland, Italy, the USA as well as in African and Asian countries. He was secretary, member or chairman of numerous GATT/WTO dispute settlement panels and chairman of the International Trade Law Committee of the International Law Association (1999-2014).


Introduction: From Democratic and Republican to Cosmopolitan
Constitutionalism in Multilevel Governance of Public Goods
I. Overview
II. Does Multilevel Governance Require Multilevel Constitutionalism?
III. Why 'Globalization' Requires Constitutionalizing Multilevel Governance of Public Goods for the
Benefit of Citizens
IV. Constitutional Failures of 'Disconnected' UN, WTO and EU Governance

1. Human Rights, 'Constitutional' Treaty Interpretation and Judicial Protection of Individual Rights in Multilevel Governance of Public Goods
I. Introduction
II. The Customary Law Requirement of Treaty Interpretation and Adjudication in Conformity with
'Principles of Justice'
III. Legal Fragmentation and Reintegration as Dialectic Methods for Reconciling 'Principles of Justice'
and Developing International Law
IV. Global Democracy? Human Rights Require 'Connecting Constituent and Constituted Powers'
through 'Cosmopolitan Constitutionalism'
V. Constitutionalizing UN/WTO Governance through Judicial Protection of Cosmopolitan Rights? Failures
of the EU's 'Cosmopolitan Foreign Policy Constitution'
VI. Conclusion: Multilevel Governance Must Promote the 'Six-Stage Sequence' of Democratic, Republican
and Cosmopolitan Constitutionalism

2. Constituting, Limiting, Regulating and Justifying Multilevel Governance through Multilevel
'Republican Constitutionalism'
I. The Gap Between Theory and Practice in Multilevel Governance of Global Public Goods
II. 'Collective Action Problems' and Comparative Institutional Analyses: Examples from Multilevel
Economic and Environmental Governance
III. How to Move from the 'Washington Consensus' to the 'Geneva Consensus' in Multilevel Governance of
Public Goods? The Example of the WHO Framework Convention on Tobacco Control
IV. How to 'Constitutionalize' Multilevel Trade Governance beyond the EU and EEA? Failures of
Transatlantic Free Trade Agreements
V. Conclusion: Courts of Justice Must Promote Legal Consistency in Multilevel Dispute Settlement in Conformity with Cosmopolitan Rights

3. Civilizing and Constitutionalizing 'Disconnected' UN, WTO and EU Governance Require 'Cosmopolitan
Constitutionalism': Legal Methodology Challenges
I. From 'Constitutionalism 1.0' to 'Constitutionalism 4.0'
II. Four 'Constitutional Functions' of Cosmopolitan Rights and the Emergence of 'Cosmopolitan International Law'
III. Need for Integrating the Competing Conceptions of International Economic Law: From Fragmentation to
Convergence in International Law
IV. Successful 'Constitutionalization' of 'Disconnected Diplomatic Governance' through Reforms of
International Investment Law?
V. Market Citizens, State Citizens and Cosmopolitan Citizens: Looking for 'Hercules' in 'Discourse
Justifications' of Multilevel Governance
VI. Conclusion: Lessons from Democratic, Republican and Cosmopolitan Constitutionalism
versandkostenfreie Lieferung
---
104,66 €

(inkl. MwSt.)
Lieferfrist: bis zu 10 Tage
Aufgrund der Corona-Krise kann es in Einzelfällen zu deutlich längeren Lieferzeiten kommen.
---
Webcode: sack.de/v3089
Bitte ändern Sie das Passwort