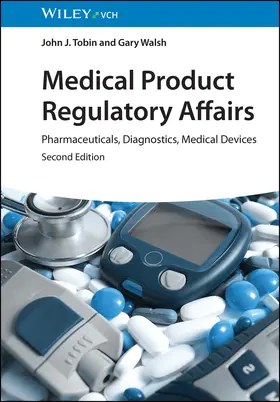 Tobin / Walsh
Medical Product Regulatory Affairs
Pharmaceuticals, Diagnostics, Medical Devices
2. Auflage 2021
ISBN: 978-3-527-33326-4
Verlag: Wiley-VCH
Seite exportieren
---
Buch, Englisch,
350 Seiten, Gebunden, Format (B × H): 159 mm x 240 mm
Vorauflage:
Pharmaceuticals, Diagnostics, Medical Devices
2. Auflage 2021, 350 Seiten, Gebunden, Format (B × H): 159 mm x 240 mm
ISBN: 978-3-527-33326-4
Verlag: Wiley-VCH
Seite exportieren
---
(inkl. MwSt.)
versandkostenfreie Lieferung
vorbestellbar, Erscheinungstermin ca. November 2021
---
---
---
---
---
---
Durch die Behandlung einer Vielzahl unterschiedlicher Produkttypen und der wichtigsten globalen Märkte ist dieses Lehrwerk genau richtig für Kurse rund um Zulassungsfragen medizinischer Geräte. Eignet sich auch hervorragend als Einführung in das Thema.
Autoren


Tobin, John J.
J.J. Tobin worked for many years and in various capacities within Olympus diagnostica GmbH, a company employing several 100 people who develop and manufacture in vitro diagnostic reagents. Dr. Tobin therefore has extensive experience of working within an FDA and European medical device regulatory framework. Gary Walsh is an associate professor of industrial biochemistry at the University of Limerick, Ireland. He has direct industrial experience within the pharmaceutical industry, as well as extensive teaching and non-laboratory based research interests in the pharmaceutical biotechnology arena. He has published a number of books, book chapters and journal articles relevant to this publication. He also has taught elements of pharmaceutical science and regulatory affairs on an annual course provided by the University of Limerick to an international medical device company with a manufacturing facility based in the region.


Contents
Preface XIII
1 The Aims and Structure of Regulations 1
1.1 Introduction 1
1.2 Purpose and Principles of Regulation 1
1.3 The Legal Framework for Regulation 3
1.3.1 National Legislative Process 3
1.3.2 EU Legislative Process 4
1.3.3 Working with Legal Texts 5
1.3.4 Guidance Documents 6
1.3.5 Pharmacopoeia 7
1.4 Basic Legislation 7
1.4.1 EU Legislation 7
1.4.2 US Legislation 11
1.5 Scope of the Legislation 16
1.6 Chapter Review 19
1.7 Further Reading 19
2 Regulatory Strategy 21
2.1 Chapter Introduction 21
2.2 Basic Regulatory Strategy 21
2.2.1 Product Development 21
2.2.2 Product Manufacture 21
2.2.3 Market Vigilance 22
2.3 Quality Assurance Systems 22
2.3.1 Personnel 23
2.3.2 Documentation 24
2.3.3 Facilities and Equipment 25
Medical Product Regulatory Affairs. John J. Tobin and Gary Walsh
Copyright 2008 WILEY-VCH Verlag GmbH & Co. KGaA, Weinheim
ISBN: 978-3-527-31877-3
V
2.3.4 Corrective and Preventive Action 25
2.4 Validation 26
2.5 Regulatory Bodies 27
2.5.1 European Commission 27
2.5.2 The EMEA 29
2.5.3 National Competent Authorities 30
2.5.4 Notified Bodies 32
2.5.5 The FDA 32
2.5.6 US Department of Agriculture 35
2.5.7 Pharmacopoeia Authorities 36
2.6 International Harmonisation Bodies 36
2.7 International Conference on Harmonisation 36
2.7.1 VICH 39
2.7.2 The Global Harmonisation Task Force 39
2.8 Pharmaceutical Inspection Cooperation Scheme 40
2.9 The World Health Organization (WHO) 42
2.10 Chapter Review 42
2.11 Further Reading 42
3 Drug Discovery and Development 43
3.1 Chapter Introduction 43
3.2 Drug Categorisation 43
3.2.1 Prescription Status 43
3.2.2 Physical Properties 44
3.2.3 Mode of Action 44
3.2.4 Therapeutic Use 45
3.3 Drug Discovery 45
3.4 Drug Development 50
3.5 Drug Delivery 52
3.5.1 Location 52
3.5.2 Drug Characteristics 52
3.5.3 Speed and Duration of Therapeutic Effect 53
3.5.4 Stability 55
3.6 Chapter Review 55
3.7 Suggested Reading 55
4 Non-Clinical Studies 57
4.1 Chapter Introduction 57
4.2 Non-Clinical Study Objectives and Timing 57
4.3 Pharmacological Studies 58
4.3.1 Pharmacodynamic Studies 59
4.3.2 Pharmacokinetic/Toxicokinetic Studies 62
4.4 Bioavailability and Bioequivalence 64
4.5 Toxicology Studies 65
VI Contents
4.5.1 Toxicity Studies 65
4.5.2 Genotoxicity Studies 66
4.5.3 Carcinogenicity Studies 67
4.5.4 Reproductive Toxicology Studies 67
4.6 Chemistry, Manufacturing and Control Development
(CMC) 67
4.7 Quality of Biotech Products 68
4.7.1 Stability Studies 68
4.8 Good Laboratory Practice (GLP) 69
4.9 Chapter Review 69
4.10 Further Reading 71
5 Clinical Trials 73
5.1 Chapter Introduction 73
5.2 Clinical Trials 73
5.2.1 Phase I Trials 74
5.2.2 Phase II Trials 74
5.2.3 Phase III Trials 75
5.3 Clinical Trial Design 76
5.4 Good Clinical Practice 78
5.5 Clinical Trials in the EU 78
5.5.1 The Sponsor 80
5.5.2 The Investigator.s Brochure 80
5.5.3 The Investigator 81
5.5.4 The Trial Protocol 81
5.5.5 The Investigational Medicinal Product Dossier 82
5.5.6 Informed Consent 82
5.5.7 Manufacture of Investigational Medicinal Product 82
5.5.8 Competent Authority Clinical Trial Application 84
5.5.9 Independent Ethics Committee CTA 85
5.5.10 Amendments to Clinical Trials 87
5.5.11 Case Report Forms 87
5.5.12 Adverse Event Reporting 87
5.5.13 Annual Safety Report 88
5.5.14 Monitoring of Trials 88
5.5.15 End of Trial 88
5.5.16 Trial Master File 88
5.6 Clinical Trials in The US 89
5.6.1 Investigational New Drug Application (IND) 89
5.6.2 Institutional Review Board 91
5.6.3 Communication with the FDA 94
5.6.4 Labelling of Investigational Drugs 95
5.7 Chapter Review 95
5.8 Further Reading 95
Contents VII
6 Marketing Authorisation 97
6.1 Chapter Introduction 97
6.2 The Application Dossier 97
6.3 CTD 98
6.3.1 Module Structure 101
6.3.2 Module 3: Quality 101
6.3.3 Drug Master Files 104
6.3.4 Module 4: Non-Clinical Study Reports 105
6.3.5 Module 5: Clinical Study Reports 105
6.3.6 M
versandkostenfreie Lieferung
---
89,90 €

(inkl. MwSt.)
vorbestellbar, Erscheinungstermin ca. November 2021
---
Webcode: sack.de/0ri2u
Bitte ändern Sie das Passwort